I LOVE Valentine's Day…maybe a little too much. The day that the Christmas decorations come down Cupid comes in and vomits red, pink and white EVERYWHERE! I have loved this "non-holiday" since I was little and my mom made a huge deal out of us (my dad, brother, sister and me) being her Valentine. Even when I was single, I never dreaded February 14th because I felt like it was such a special day to celebrate with my mom.
Now that I am a mom, I love this time of year even more (didn't think that was possible, neither did my husband) and I am hoping to continue a family love-fest with my own children.
Enter, THE LOVE JAR!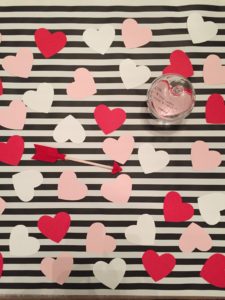 My friend, Mehgan, has a Gratitude Jar where she writes what she is thankful for throughout the year and she reads them on New Years Eve. I loved this so much and decided to try a Love Jar. I made red, pink and white heart cutouts (designating one color for each of us…minus my son since he can't talk yet) that we write "I love…" and finish that sentence with something we love about our family or each other. We plan on reading the hearts on Valentine's Day together as a family. We started this at the beginning of the year and my heart swells when I hear and write down what my daughter "loves" every night.
You can purchase the cardstock from a craft store and a heart paper puncher. Or you can get a similar one (affiliate link)
here
.
What Valentine traditions do you have with your family?
With love,
Shahla