I wrote a piece about traveling to Disney with babies and toddlers a couple years ago (you can find it here). Since publishing that post our needs have changed as the kids have gotten older. Here is the first installation of a series focusing on making your trip to the happiest place on earth a magical one! This post will be focusing on strollers; should you bring one (ummm, YES!!)? And furthermore, what to keep in your stroller!
Bring a stroller– We wanted a side by side umbrella stroller that was lightweight, easy to maneuver, offered lots of shade, and was easy to fold. The Supa Dupa Double by Cosatto fit all of those requirements. I was gifted a Supa Dupa Double Cosatto stroller, the opinions expressed are my own.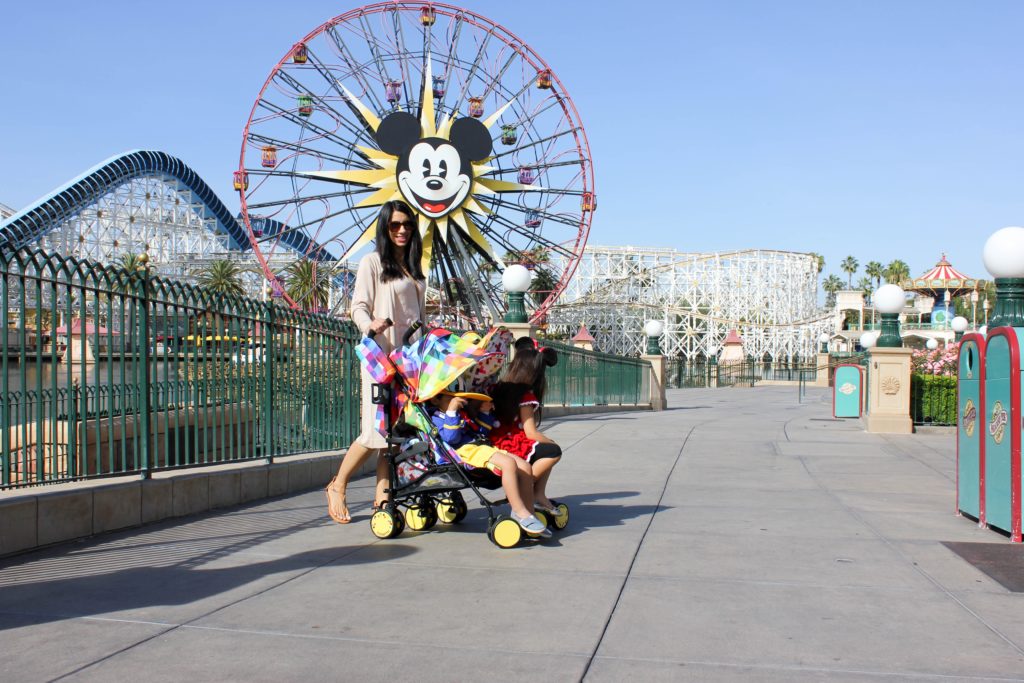 We really put this stroller to the test at Disneyland. My daughter is 5 years old and usually feels strollers are "baby-ish". We made the mistake of not bringing one on a previous trip. We ended up taking turns putting her on our shoulders. It wasn't worth the chiropractor bills to skip bringing a stroller this time.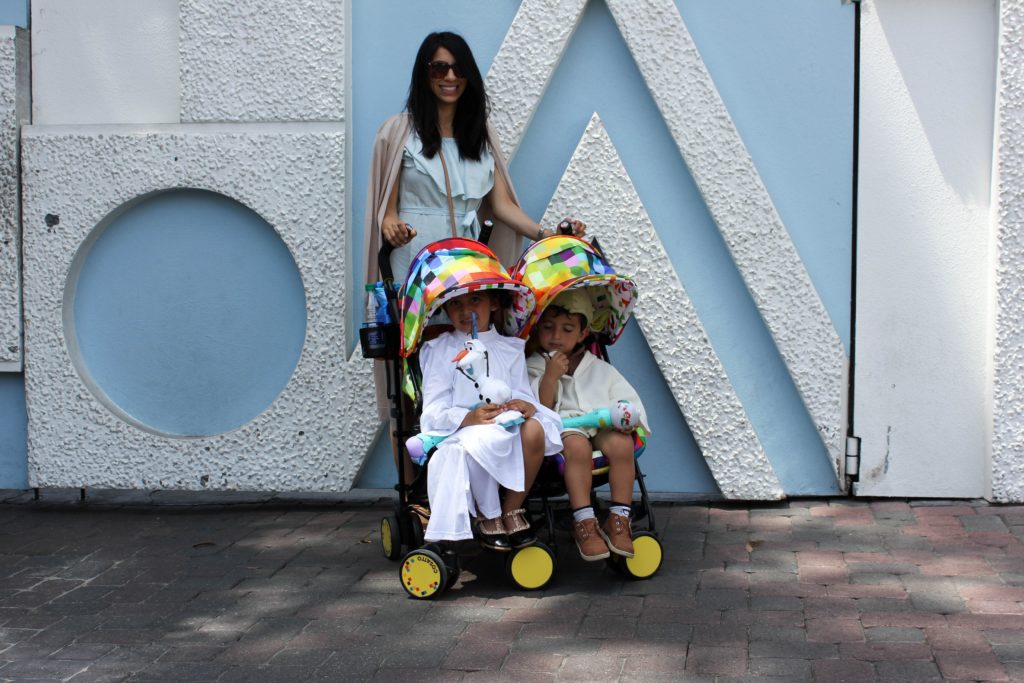 The Pixelate print is gorgeous. We got so many compliments in the park about the bright colors. The best thing about this print is that when you come out of Small World ride and see a sea of seventy black strollers, the Cosatto stands out and can easily be located.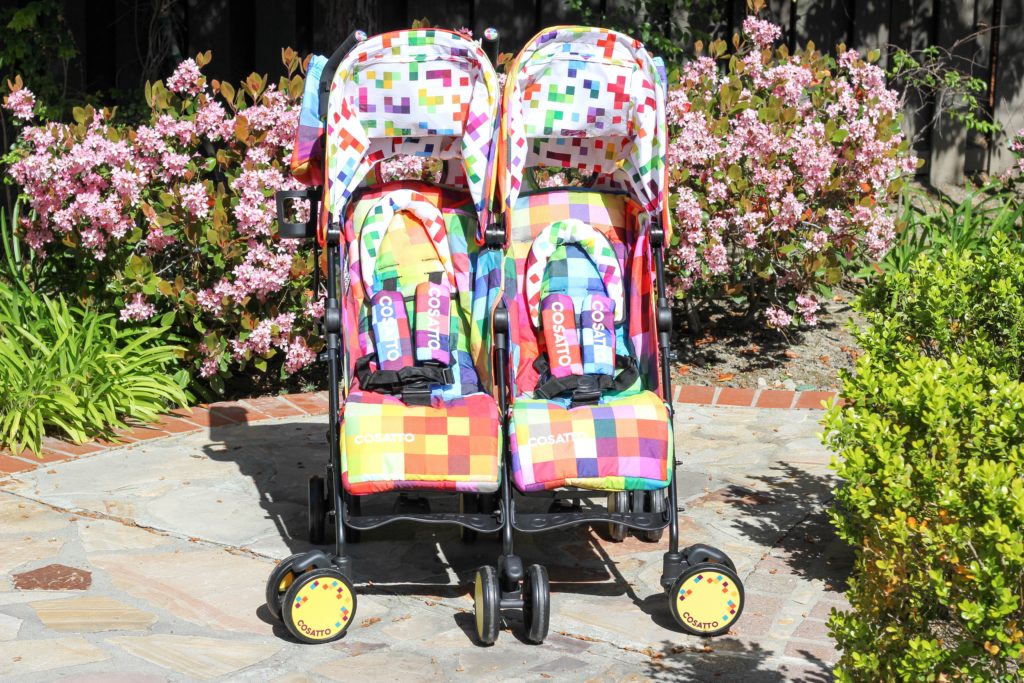 Another benefit is that the side by side option allows you to recline a seat when one is sleeping without disturbing the other child's experience.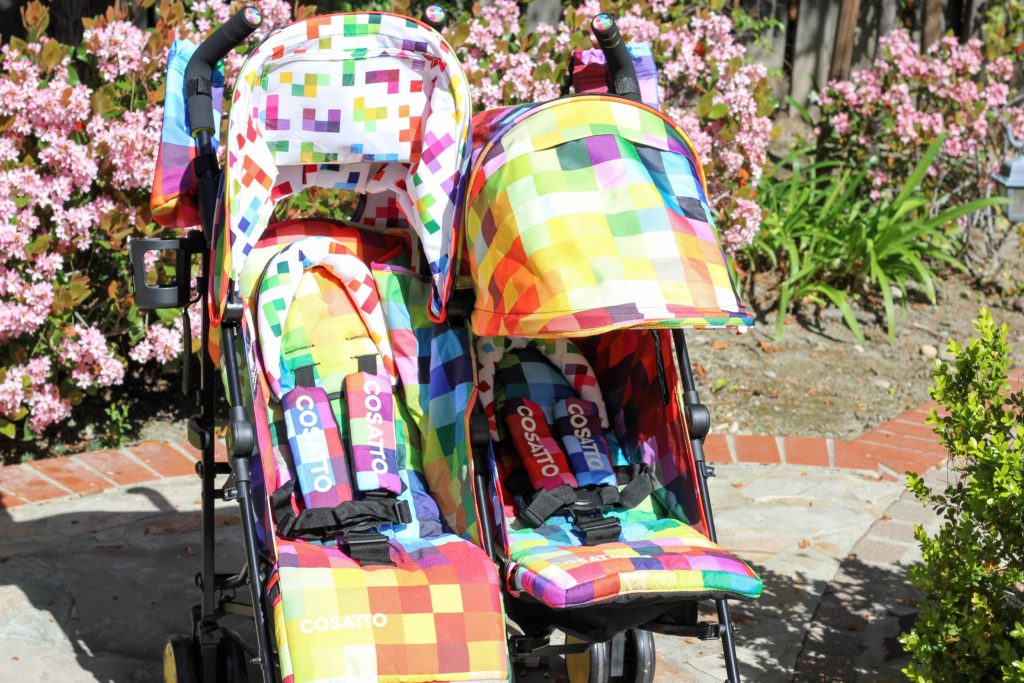 The size of the shades is important to us as we want our kids to be protected from the sun. Super cool addition to these shades– there is a slot for your tablets if you need additional entertainment for your kids! And there is even a speaker in the back pocket. You better believe my kids had Moana blasting!
We also loved the size of the baskets for carrying our snacks, jackets, extra clothes, etc. The stroller also comes with a lot of great additions: foot cozies for cooler days and nights (no more worrying about blankets falling on the ground as you are strolling). Also there is a rain cover that can protect your littles from the elements. The insulated bottle holders are also a great addition.
Check out Cosatto USA to see all of their pretty prints!
Now for what to pack in your stroller:
Snacks— Hangry children (and adults) can derail the magic fast! Snacks are super helpful in keeping everyone happy especially when waiting in line. I try to bring nutritious snacks as I know the kids will want all of the temptingly delicious snacks at the park (ice cream, pretzels, Rice Krispy treats….mickey shaped everything!!). We do indulge in all of those, we just balance it all out with some healthy options. If you did not bring any nutritious snacks, there are various fruit stands and other healthy options.
Water bottles— keeping hydrated at the park on a hot day is so important. Bring a few frozen bottles of water if you can. This will cut down the cost of purchasing them and help keep everyone hydrated all day.
Change of clothes— whether it is a potty accident, wet ride or playing at the splash pad at California Adventure park (it's at Bug's Land and a great way to cool off during a hot day!) you may need a clean set of clothes. My strong-willed daughter wanted to dress as Darth Vader on a hot day. I brought an extra outfit and after much convincing (honestly lots of bribing!) I was able to get her to change into something cooler.
Hand sanitizer— no explanation on this one needed! We buy the travel sized ones that we can connect to the handles of the stroller. When we can't run to a bathroom to wash our hands right after a ride, we sanitize.
Light jacket— it can get cool or breezy at night or certain parts of the day, bringing a jacket can save you from having to run back to the hotel.
Wipes– even if your toddlers/kids are potty trained, wipes will help when they have chocolate or ice cream all over their hands and faces.
Bubbles– the bubble wands that you can purchase at the parks are such a great way to entertain your kids. Mine kept pretending they were in their own parade. Bring a few bottles of bubble refills to keep those wands full and their hands busy!
Sunscreen— you will go through quite a bit!
I have attached a checklist to help you prepare your stroller! Have fun!!
With love,
Shahla