The transition from winter to spring is my favorite. The sunshine and blooming trees promise longer days and warmer weather. As soon as the first day of spring hits, Easter is usually fast approaching. Every year, I love coming up with a basket theme for the kids. The theme for the girls' basket might be my favorite so far! I wanted to make an Easter basket that was whimsical and fun for all of the girls in our family and our close friends.
I partnered up with Oriental Trading to create these adorable baskets (this post was made possible by Oriental Trading and as always, the views expressed are my own). They have a great Easter selection, making it a one-stop-shop for your basket/egg hunt needs. I love that there are a lot of non-candy options for egg and basket fillers. The school my daughter attends is sensitive to food allergies and asks that we minimize edible treats. This basket I put together is perfect as there is no sugar or allergens.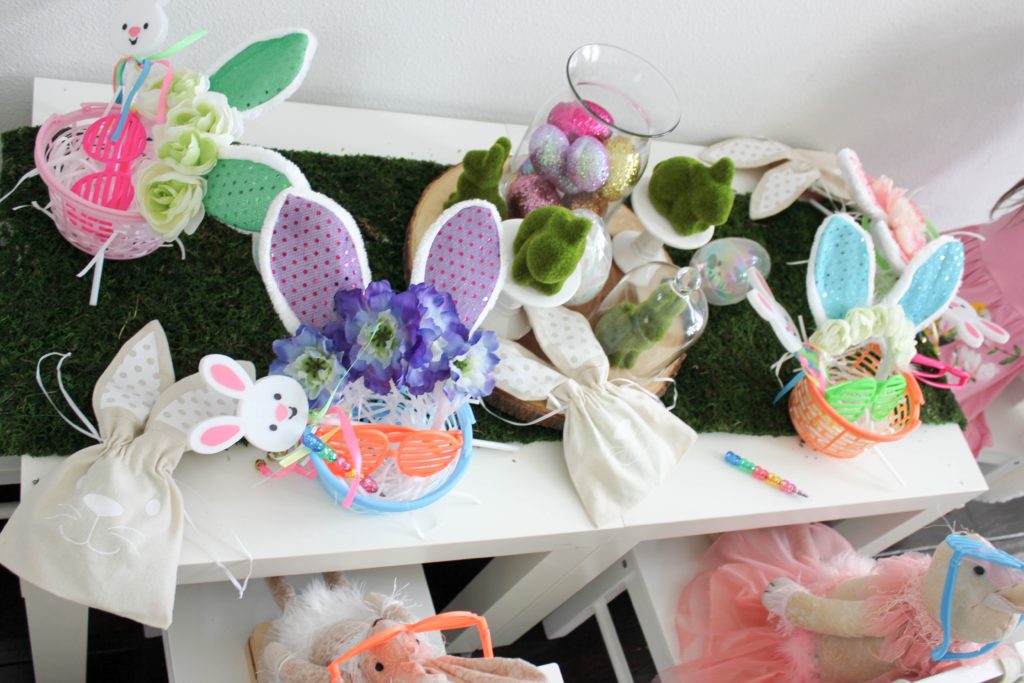 One of my favorite finds are the sequin bunny ear headbands (sold as a dozen). In my last blog post, I made flower crowns using artificial flowers from a craft store (you can find the step-by-step tutorial here).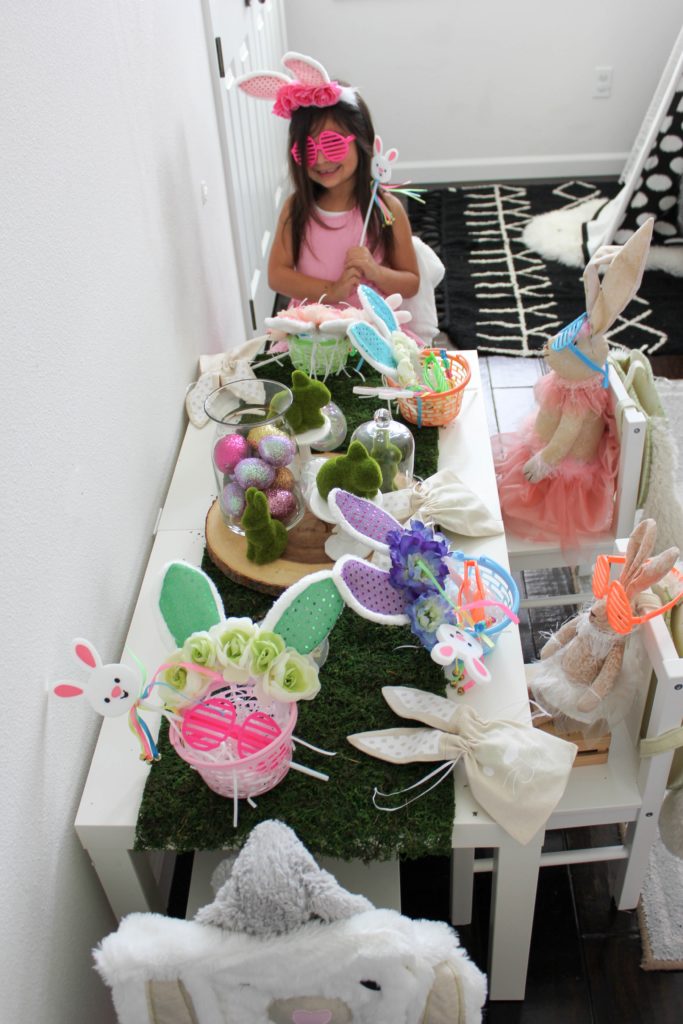 Another fun addition to the basket were those bunny jingle wands and egg shutter shades (the egg glasses are sold out but you can find similar ones here). The wands have bells tied to the bottom of the ribbons and are perfect for all aspiring bunny fairies. As you can see above, my bunny invited all of her bunny friends over for the fairy celebration.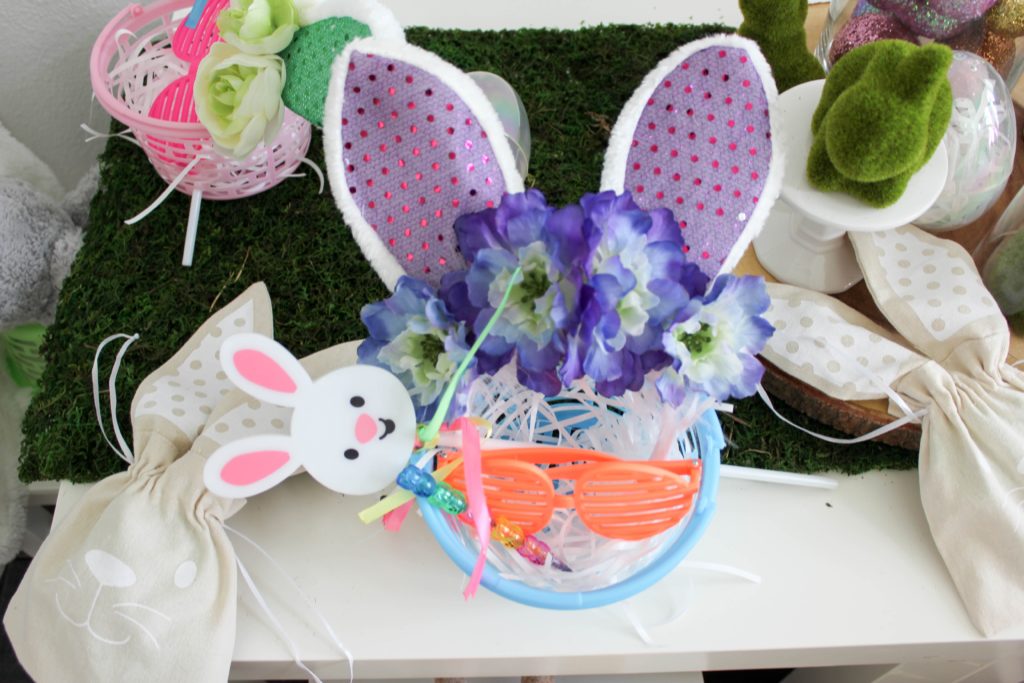 The mini baskets are perfect for holding together our Easter goodies. The come in two different color sets (pastels or brights). The set here are the pastels. I also included the bunny multicolor crayon pen. Perfect for your aspiring artists.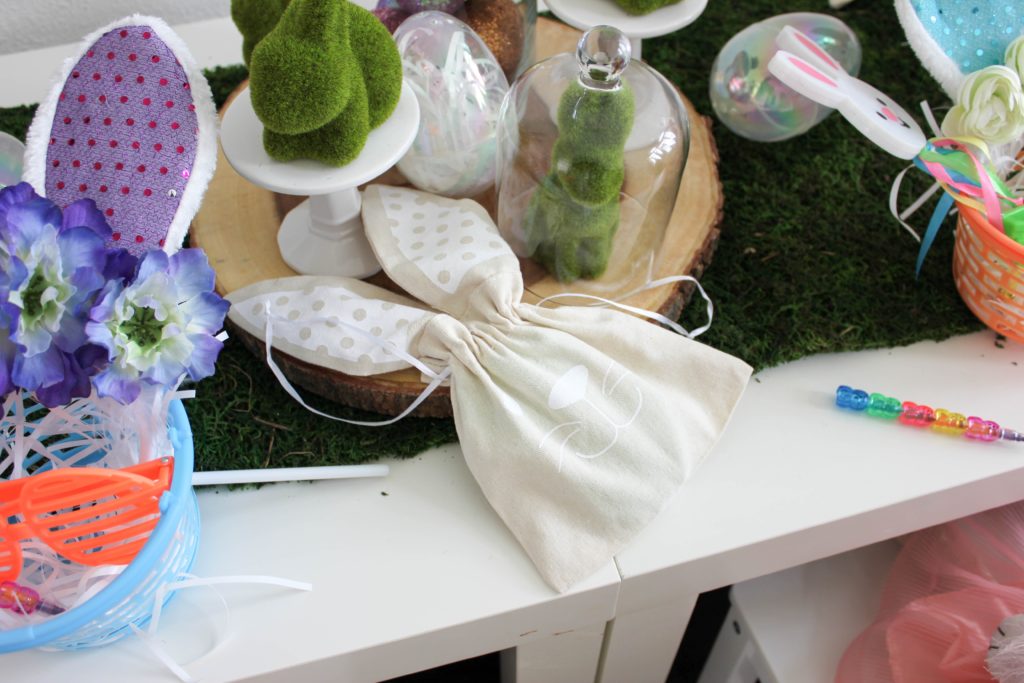 Aren't those rabbit ear drawstring sacks adorable?! They are the perfect size for smaller treats or toys.
The moss table runner sets the tone for our table and accents the moss bunnies well. The runner is also from Oriental Trading. It is perfect for Easter and versatile for other seasons beyond spring! It adds the perfect touch of whimsy to our table.
What do you typically add to your baskets?
Happy hopping!!
With love,
Shahla