A long time ago my sweet husband succumbed to the pressures of Valentine's Day. It was our first Valentine's Day as an engaged couple and I could tell he was stressed. I opened the door to find him with a bouquet of flowers and a huge heart balloon. The only problem was that the balloon said, 'Happy Birthday!' I melted into a fit of giggles and he was completely confused. He had no clue that he picked up a Happy Birthday balloon. Apparently he grabbed the largest heart balloon he could find and my favorite blooms and came over. Since then, we say 'Happy Birthday' instead of 'Happy Valentine's Day' and Rob understands that I have zero expectations on February 14th. We make a really big deal out of it for the kids though!
Speaking of kids, there are some AWESOME ideas on Pinterest for non-candy Valentines. I am having a really hard time deciding which one to do for my daughter's preschool class. Here are some adorable ones that you can download tonight! Just click the link and it will take you to the originating blog…these mamas are uber creative!
Tips From a Typical Mom has the most adorable Star Wars printables. Add a glow stick as a lightsaber and your little Jedi's will be stoked! Click here to go to her site.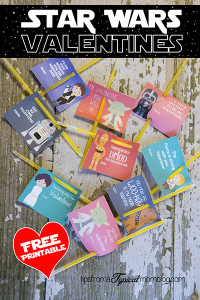 Dandee Designs' magnifying glass Valentine is so creative! Click here to check it out.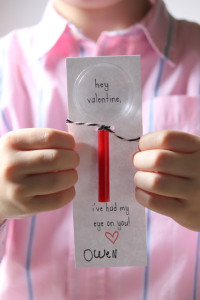 Redo Mom's bubble wand card is too cute! A friend did this with giant bubble wands last year and it was a HUGE hit!! Pun intended. Check out this one here.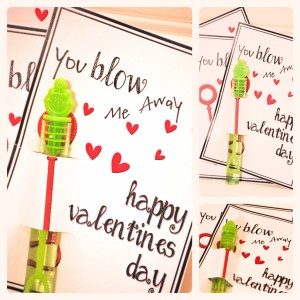 Check out this adorable pencil valentine, here.
Another guaranteed winner from Dandee! This is too cute! Click here.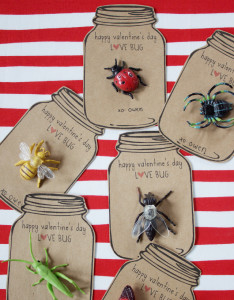 Although every parent may not appreciate a whoopee cushion, I love this valentine. Download here.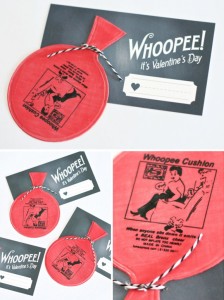 Who doesn't love dinosaurs? My Daylights has the cutest dino-themed cards. Visit her here.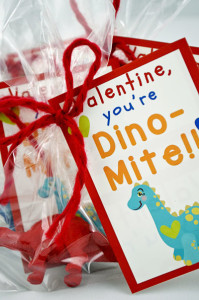 Love the crazy straw valentines here at It's Always Autumn!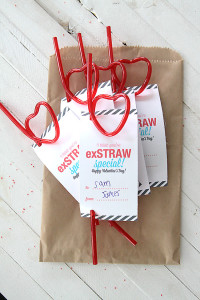 Play-Doh is one of mu kids' favorite things to play with. Grace and Good Eats has the cutest valentine for Play-Doh lovers! Find it here.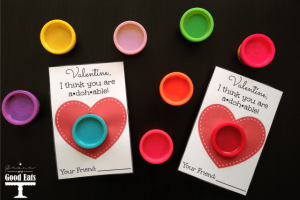 My daughter took crayons for her preschool V-day party. I have enough crayon boxes where I may be repeating this one. Kids love crayons for obvious reasons and parents love crayons because it gives them some quiet time. This is perfect, unless the quiet time is because your child is using the crayons to draw on the walls. Mine are totally guilty of that. Click here to get my template and just write your child's name.
With love,
Shahla