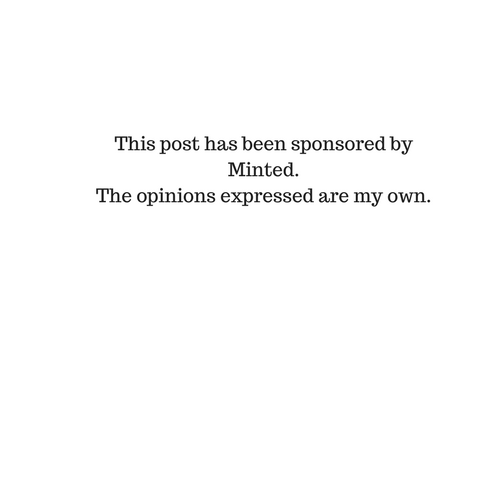 Holiday cards– I love receiving them and sending them! The process of getting my act together to address and mail them in time can be a little overwhelming. Here are some tips and tricks to help make the process of sending holiday cards a little easier. Thank you to Minted for sponsoring this post, the opinions expressed are mine (as always).
Designing Your Card
I also love designing our holiday cards! It was especially easy to design our cards this year since we used Minted. They have so many coordinated sets to fit your style and budget. We personalized the color, shape and liners to make the cards uniquely ours. For our card, I chose to keep the front simple with our family photo, but with a cute and funny "Good All Year*….*mostly" greeting. On the back, I personalized the card by adding a red background and including our funny picture. I changed the message by adding a header (you can change fonts and sizes!) and then including our message below. We try to use a funny picture or an outtake when we have them. It feels more like us that way!
Address Pitfalls
As far as recipient addresses went, I had to start from scratch this year. I had all of my addresses saved on my computer and lost them. No back up. No emailed attachment. Nothing!! After throwing a tantrum my three year old would be proud of, I started the tedious task of asking people for their addresses. I compiled all of the information onto an Excel spreadsheet and backed up the information on a Google sheet. I then shared that sheet with my husband. That way we can manage the list by adding and updated year round. And no more lost documents! The beauty of having all of the addresses on a spreadsheet is that it is so easy to upload them into the Minted system and take advantage of their free recipient address printing. That makes for easier card assembly since their are no labels to peel and stick. You can do the same for return address printing too. Oh and I always order about 10-20 extra cards as I either forget someone or receive unexpected card.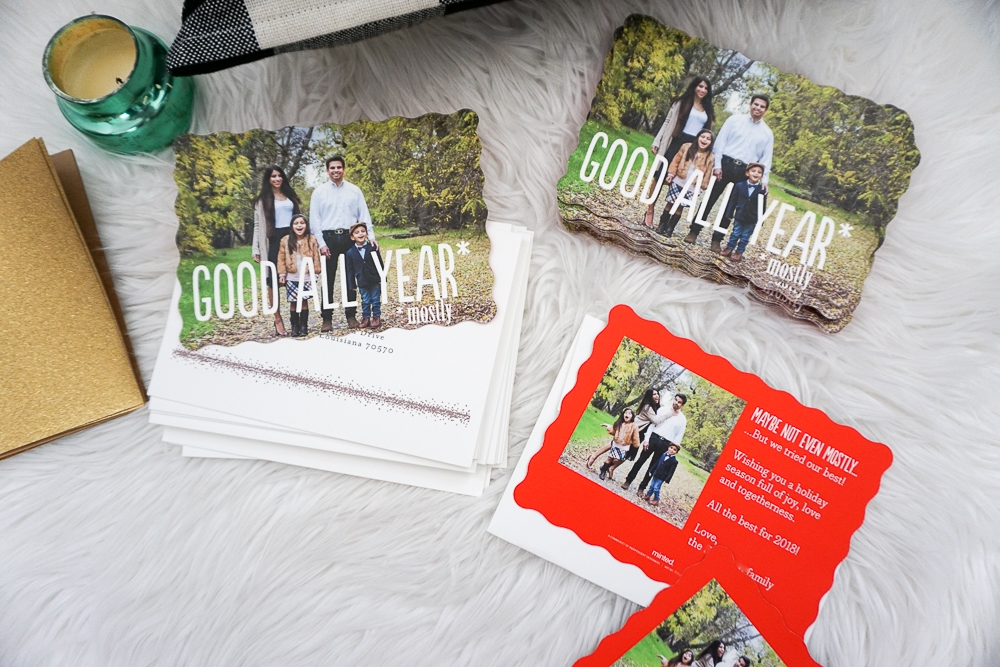 Centralize the Necessities 
When I am putting together our cards, I try to have everything corralled to one tray. That way I am not constantly getting up to retrieve something. Because let's be honest, if I walk away, chances are high that I get distracted and forget to come back. When I ordered my holiday cards from Minted, I ordered everything I needed. As I mentioned, I had the recipient and return addresses printed. I also ordered adorable personalized stamps with pictures of my kids. And to tie it all together, I added envelope liners that would make the colors of the card really pop! Oh and do follow the tips about how to attach the liners. Using the adhesive line as a guide to attach the liner is very helpful in ensuring a straight liner.
I put everything I needed on a tray and even had cotton swabs and a small cup of water so I could easily seal the envelopes. Last year, I also added a small piece of glitter washi tape to add even more glitter!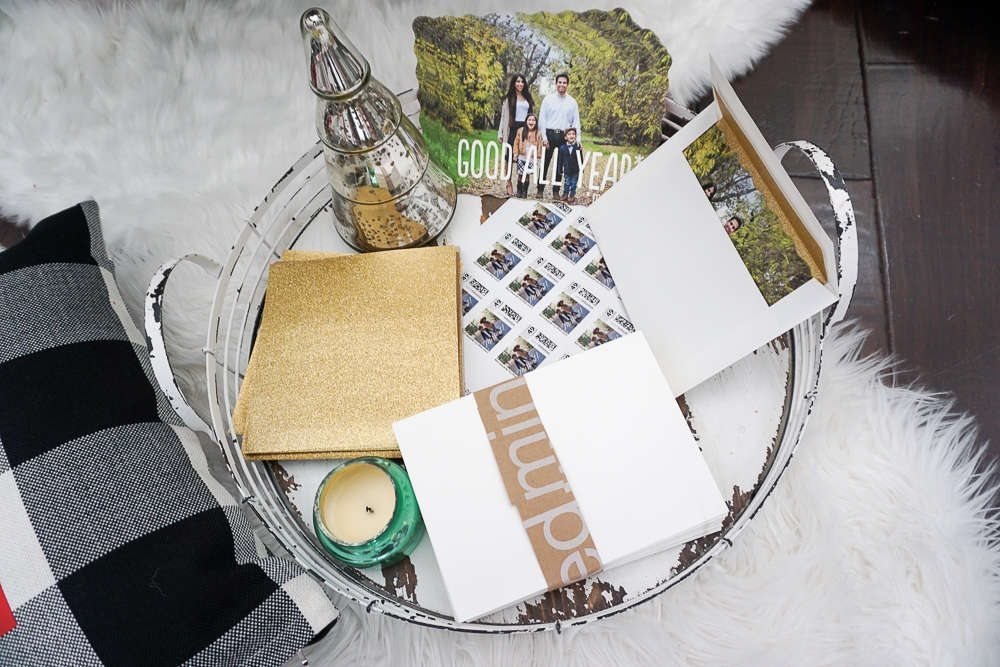 Set the Mood
Trying to assemble your holiday cards in a cluttered or messy environment, is a sure-fire way to get overwhelmed. This is funny advice for me to give because pretty much all of my home is cluttered and messy. It's called life with kids, am I right? When I am ready to assemble my cards, I will find a clean, quiet, cozy corner and make it my Christmas station. I light a holiday-scented candle, grab my favorite Santa mug and coziest blanket. I also blast Christmas music. When someone opens his/her card from us, chances are high that I was belting out Mariah Carey's All I Want for Christmas at the top of my lungs while putting the card together. Believe me, setting the mood can make an otherwise tedious task so much fun!
If you can enlist help, the task goes by even faster! My husband and I were able to put together a lot more cards when we worked together. However, he wasn't a fan of my singing along to Mariah on repeat, so we put on a Christmas movie instead. He is a total party pooper, but I still love him.
What are your tips for sending holiday cards? Any fun traditions you have with your family? Please do share in the comments!
With love,
Shahla