Planning a family ski trip? If your kids are interested in skiing or snowboarding, I strongly suggest signing them up for lessons. Last spring, we planned an awesome spring skiing trip to Northstar California. Full disclosure: I am now an ambassador for Northstar, but (as always) the opinions I express are my own! When planning our trip, we knew we wanted our then-five-year-old daughter to get on skis. While my husband is a good skier and excellent snowboarder, we wanted to make sure she learned the fundamentals of skiing and safety from a professional.
There are different types of lessons to choose from (private/semi-private/ski school). My daughter took part in the Ultimate 4 Ski Lesson for ages 4-12 at Kids' Ski + Board School in the Village at Northstar. The beauty of these lessons are that they limit the session to only four students, making for individualized attention. This is an all day lesson where the children are dropped of at 8:30am and picked up at 3:30pm.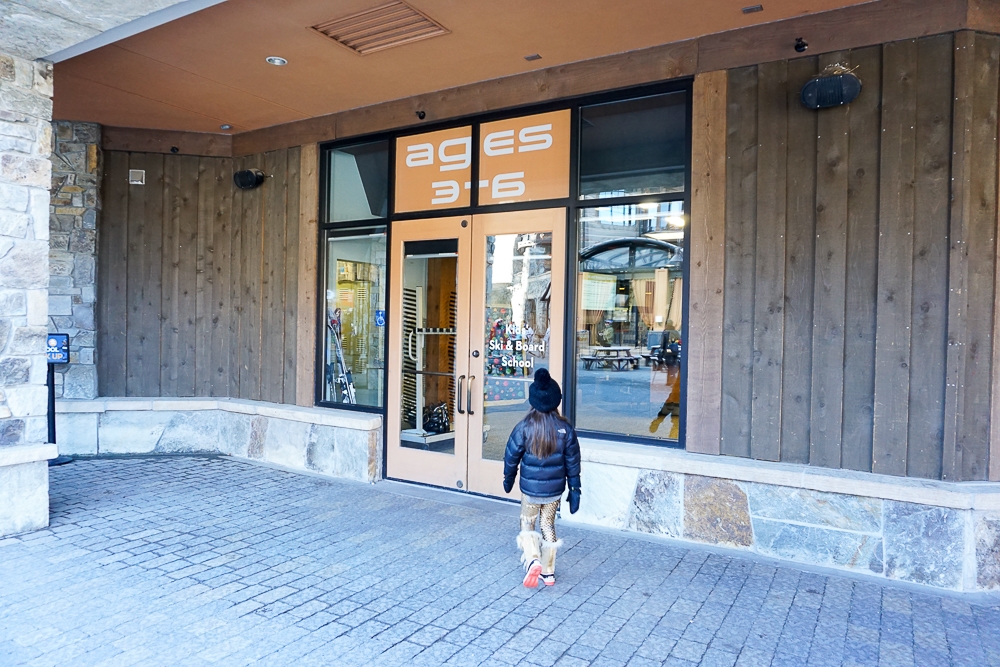 First, let me tell you that I did not think she would last the whole day. This sweet girl has lots of separation anxiety and it took months for her to be comfortable at preschool. Yes, I said months! I even considered canceling her reservation because of how scared she was leading up to the lesson. Luckily, the kind ladies I have been fortunate to work with at Northstar convinced me to give it a try.
Here are some of the reasons why ski school (or a lesson with a professional) is a must for your kids:
Safety
At ski school, kids will learn basic safety rules. This includes rules of conduct and general safety information. Furthermore, the instructors know when to push and when to have the kids rest.
Basic Skills 
Falling is inevitable when little ones are learning to ski, so it is important for them to learn how to get back up. They also teach the kids how to position their skis to slow down. My daughter had her form down when she was tackling the bunny slopes (yes, I spied and yes her form is way better than mine). Those basic form techniques are instilled in them when they start learning from a professional. Also, maybe they learn these basic skills quickly because they are actually listening to that person! I don't know about you, but getting my kids to listen to my simple requests are hard enough as it is.
Confidence
Not only did she last the entire day, she LOVED ski school and wants to do it again. The day of ski school was her very first day on skis. The next day she was on the mountain and did not want her dad or I to help her down the hill. The confidence that ski school helped foster was priceless! Not surprising that she carried that confidence beyond the ski trip and applied it to other milestones.
Fun
The instructors know how to make the day fun! Whether it's through snacks, jokes or their upbeat attitudes, they melt away those feelings of anxiety in their young pupils. My daughter loved her instructor Sophie so much that she has gone looking for her on subsequent trips! Another benefit of ski school is that they are learning with their peers and making new friends!
My son was only two at the time(ski lessons are offered at 3 years old) and will definitely be partaking in ski school when he is old enough! Who am I kidding?? I will also be taking a lesson. After seeing the progress in my five year old, I think I need a refresher! You can even book a private family lesson and get the entire group involved!
If you are at a loss for what to pack, check out my post on Tahoe Ascent for some tips!
I would love to hear your plans or experiences with ski school/lessons for kids, share them in the comments!
With love,
Shahla