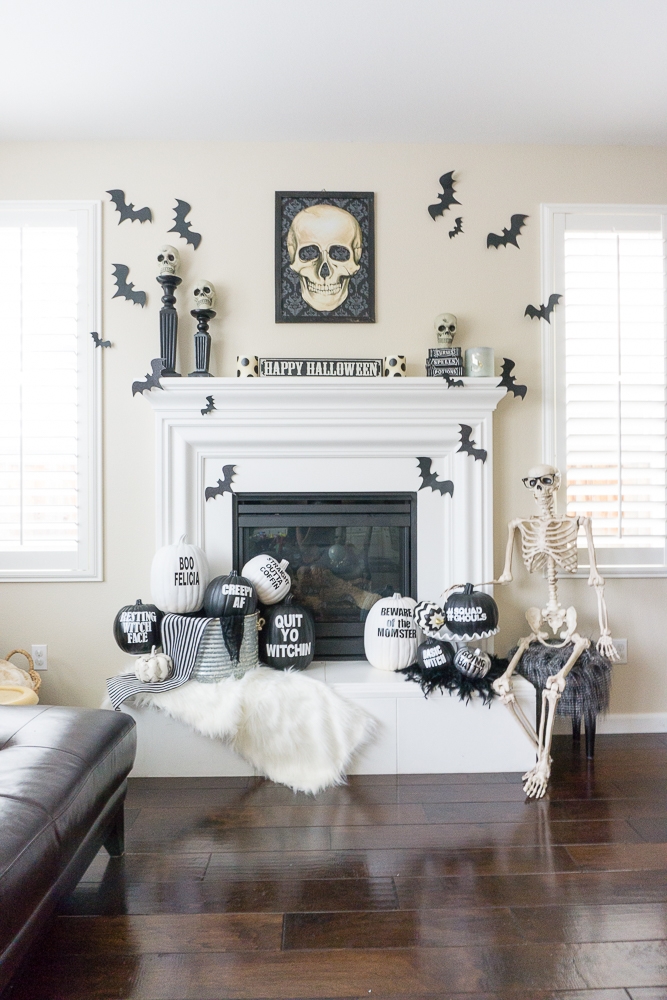 If you are looking for spooky monochrome decor for your mantle, you are in luck! It is September and our spooktacular black and white Halloween mantle is already up. My love of Halloween has definitely spread to my littles. My son, who turns three this month has requested a spooky skeleton and pumpkin theme for his birthday. So of course I had to oblige with his birthday wishes!
Last year, I posted my Cheeky Pun-kins here (inspired by this Studio DIY post) and my mantle decor with free bat printables. I used the same bats (download here) and made some adjustments this year.
Pun-kins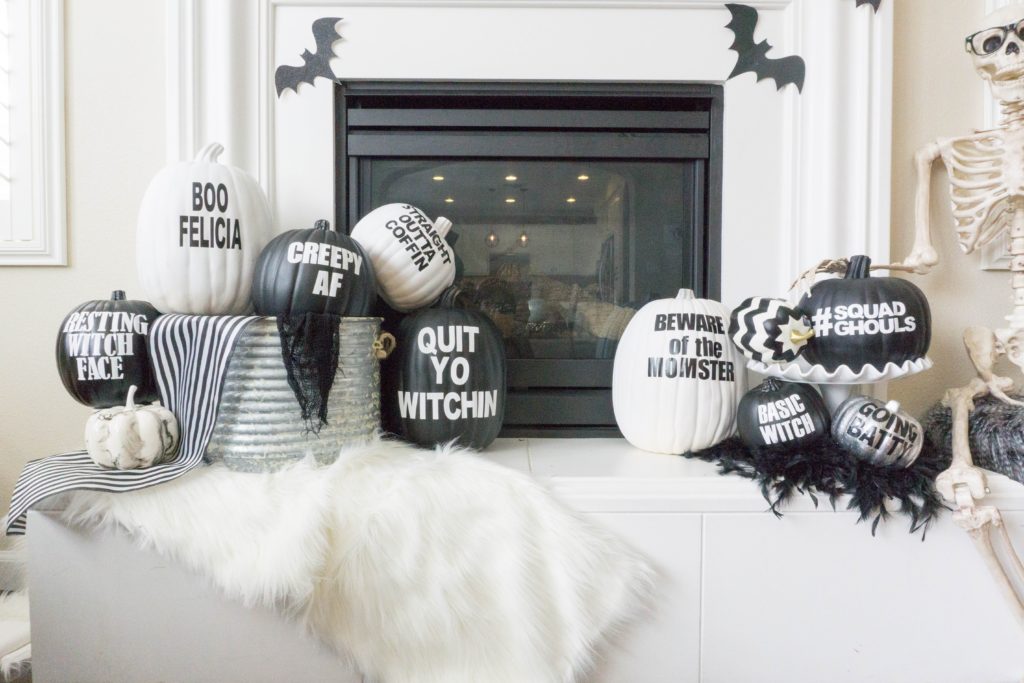 Last year, I used real pumpkins and spray painted them black and white. The downside to that was that my pumpkins were outside and imploded in the 100 degree California heat. Since it is hot for most of October (and I somehow forgot that fact last year) it made sense for me to use craft pumpkins instead. I bought mine from Michael's craft store because they had a great Labor Day sale. They have three different sizes that worked well for added dimension. The white was an off-white so I spray painted those to get a brighter look. I also spray painted the black ones in the larger size and small size (couldn't find those in black at the store).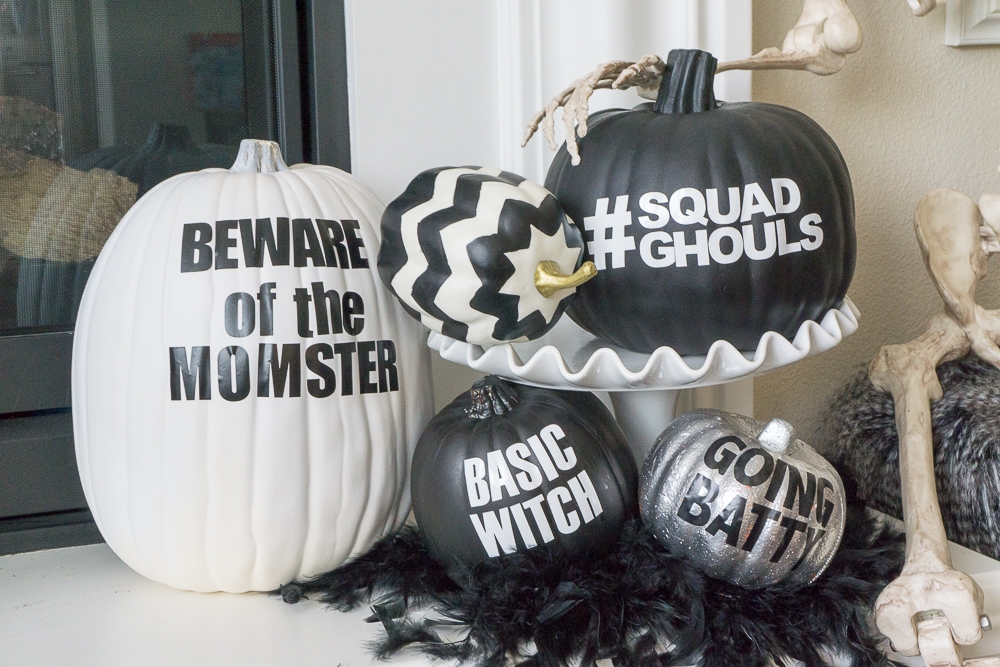 I used my Silhouette machine that I was gifted by the company to cut out my puns on vinyl. Made for super easy sizing and attaching.
There are so many hilarious Halloween puns that you can incorporate into your decor. My mantle pun-kins included these fun sayings:
Resting Witch Face
Boo Felicia
Creepy AF
Straight Outta Coffin
Quit Yo Witchin
Beware of the Momster
#squadghouls
Basic Witch
Going Batty
Other pun-kin sayings I have outside:
Gimme all the Boos
Creepin it Real
Eat, Drink & Be Scary
Dead Inside
Don't Be a Basic Witch
Cheers Witches
OMG. Literally DEAD.
I keep trying to get buy-in on creating a 'Let's Bone' pun-kin. Apparently that is not appropriate or family-friendly so…not happening.
Skulls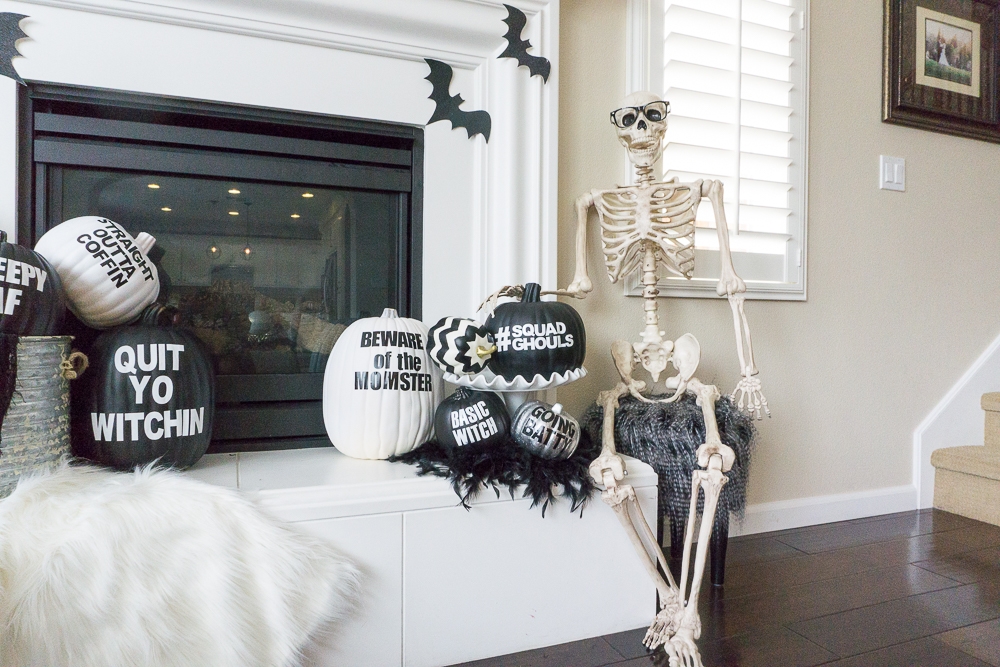 The life-sized posable skeleton is a Costco find and I mounted some specs on him from our dress up chest. The rest of the skulls were purchased at the Dollar Tree. I used mounting tape to secure the skulls onto candlesticks (from Z Gallerie) and the faux books (from Michael's). The skull art and 'Happy Halloween' decor are both also from Michael's.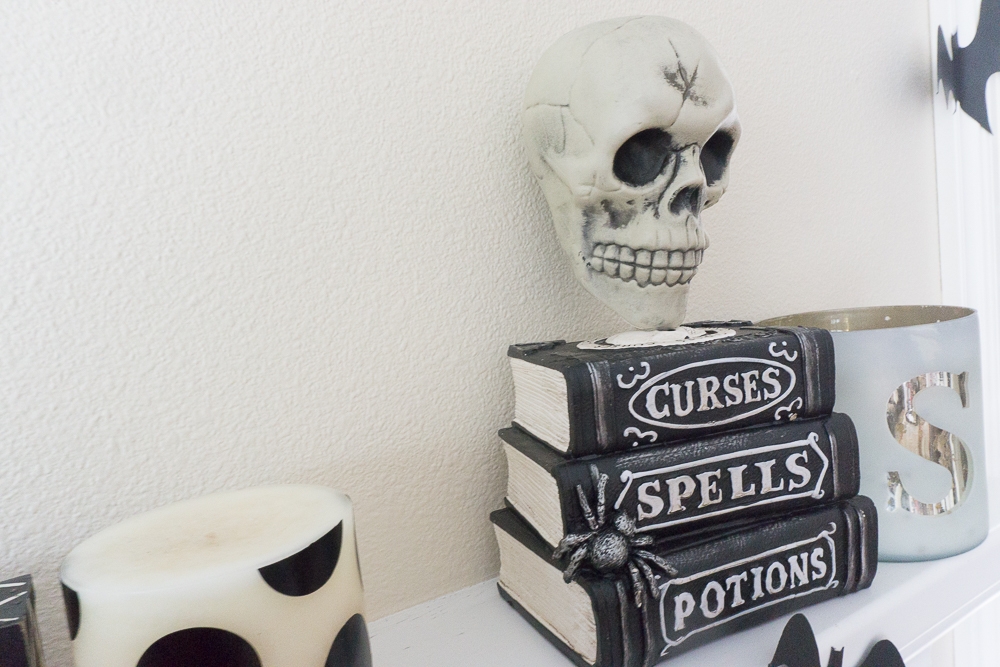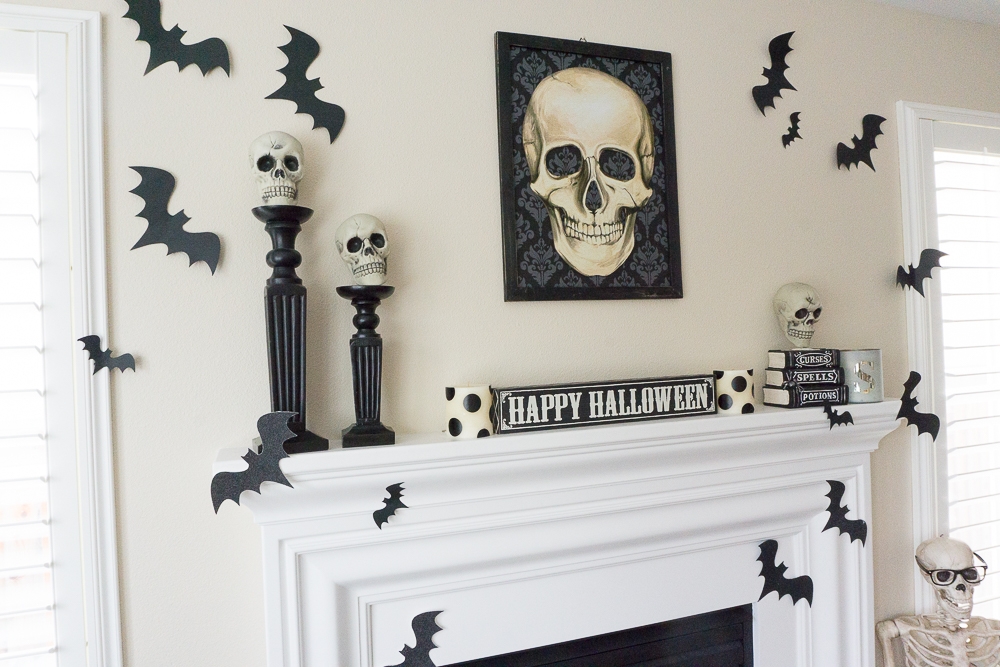 Rearrange
My favorite place to 'shop' for mantle decor is my own house. I am always moving things around. The cake stand and galvanized bucket are from HomeGoods that were being used as decor in my kitchen. The white fur is a runner that I purchased at Marshall's around Christmastime. The candles were already on the mantle, but I cut black vinyl circles to give them polka dots. Also, the stool Mr. Bones is sitting on a stool from the playroom.
What would your pun-kin say?
Happy Haunting!
With love,
Shahla