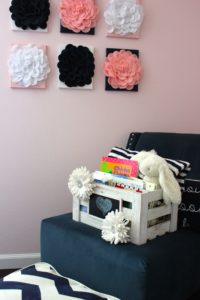 One of my favorite gifts I received when pregnant with my first child was a "starter-library" of fantastic baby/toddler books. I had never thought to do that for someone as a shower gift. It is a brilliant idea for a first-time parent. When you are running around researching the safety of carseats, ease of strollers and absorbabilty of diapers…books for the baby may fall off your radar. Sure, I had over a dozen parenting books/manuals, but I had maybe two books for my daughter.
For the first couple years of her life (and even today with some of these classics) we would snuggle and read these books, and others, over and over again. Here are some of my favorites to include in yours…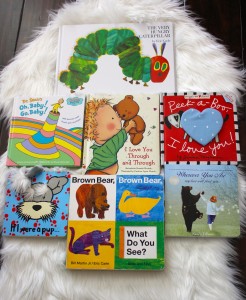 From the top: The Very Hungry Caterpillar, Eric Carle
Oh Baby! Go Baby! by Dr. Seuss
I Love You Through and Through, Bernadette Rosetti Shustack
Peek-a-Boo, I Love You! by Sandra Magsamen
If I were a Pup, Jellycat
Brown Bear, Brown Bear, What Do You See? by Bill Martin Jr. and Eric Carle
Any  book by Nancy Tillman! On the Night You Were Born is one of my favorites (tough to keep tears back reading it the first few times!).
I also love the idea of adding your favorite read as a child, or maybe some books on subject matter that appeal to the parents-to-be (Star Wars, a city they met, etc.)…add a cozy blanket and stuffed animal, and voila—the perfect shower gift!
love,
s