Stroller envy is real. I have it with my own stroller, the Entourage by Austlen (gifted to me by Austlen in exchange for my honest review). I am envious of those with younger children, who will get to enjoy this stroller for a longer time. I wish I had one 6 years ago when my daughter was a finicky baby who made going anywhere outside the house so much more difficult.
I had a hard time even going to the grocery store with my daughter when she was younger. The only place she felt comfortable as a newborn was in her carseat carrier. I never felt safe putting her carrier on the cart seat like and she refused to be worn. Usually, I would end up carrying her carseat carrier in one hand and pushing the cart with the other. When my daughter was a little older we could still barely take her to Target or the grocery store because she would try to climb out of the shopping cart. Even when I would strap her into her cart cover, she would still break free. I remember a few Target trips when I would try to push a stroller and a cart. Having a stroller that can transform into a shopping cart as well? The Austlen Entourage can do that. No joke! Ummmm where have you been all my life (the last six years of it).
How about traveling, wouldn't it be so cool to have a stroller that can expand to hold your luggage while your babe is safely in the stroller? Yup, the Austlen Entourage can do that too. It can hold up to 150lbs of weight! We tested this out on our trip to Disneyland. We extended the stroller and packed on 3 suitcases on the stroller. People were stopping us through baggage claim and out the airport asking us where we found this stroller.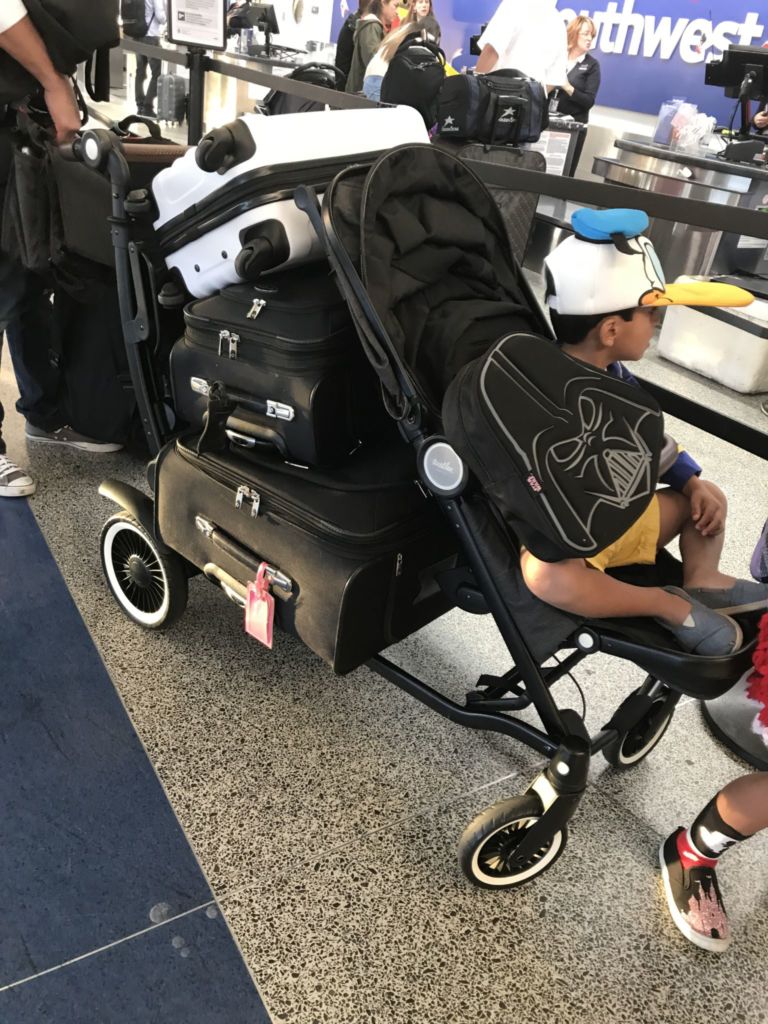 We have the sit-and-stand attachment that is a must for people with more than one child. My daughter is 5 years old, and while she is too big for a stroller…she still gets tired and wants to sit down. She can do that easily on the Entourage with this attachment. If you have younger children, you can purchase a second full seat. There are actually 30 different configurations, so you can make this stroller custom to your needs. And you can purchase accessories as those needs change to make the stroller work for you and your family.
Another benefit is the handle and how it is adjustable. While my husband and I are average-height people (I am 5'5″ and hubs is around 5'10") strollers that do not have adjustable handlebars tend to hurt our shoulders and back.
Head over to the Austlen website and see how you can accessorize the Entourage to make it fit your lifestyle (and have it grow with your family!).  And check out the video below to see how to open/collapse and expand the Entourage. If you head over to my YouTube channel, you can see a video of exactly how we used the stroller in the airport (keep the volume down as my kids were on the way to Disney and very excited…aka LOUD!).
With love,
Shahla