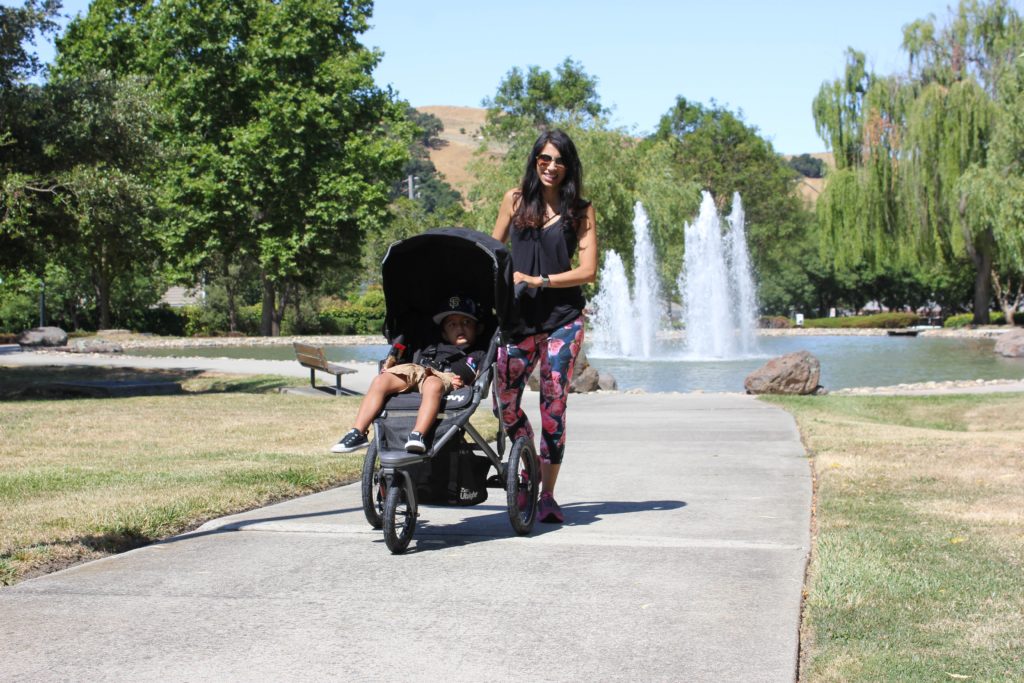 Staying active as a family has always been important to me. After my husband's heart attack over a year ago, staying active became of equal importance to him too. With two small children, it is easy to say we simply do not have the time. However, we are taking a no-excuses approach to working out. As a family, we find ways to incorporate some sort of physical activity into our daily routine. Some of those activities include biking together, playing (parents included…not sitting on the sidelines) at the park, or going on runs. My husband wakes up early on weekend mornings and goes on a run. My son looks forward to going with him in the jogging stroller. At the end of this post I have included an easy stroller workout routine. As always, check with your healthcare provider before beginning any physical activity.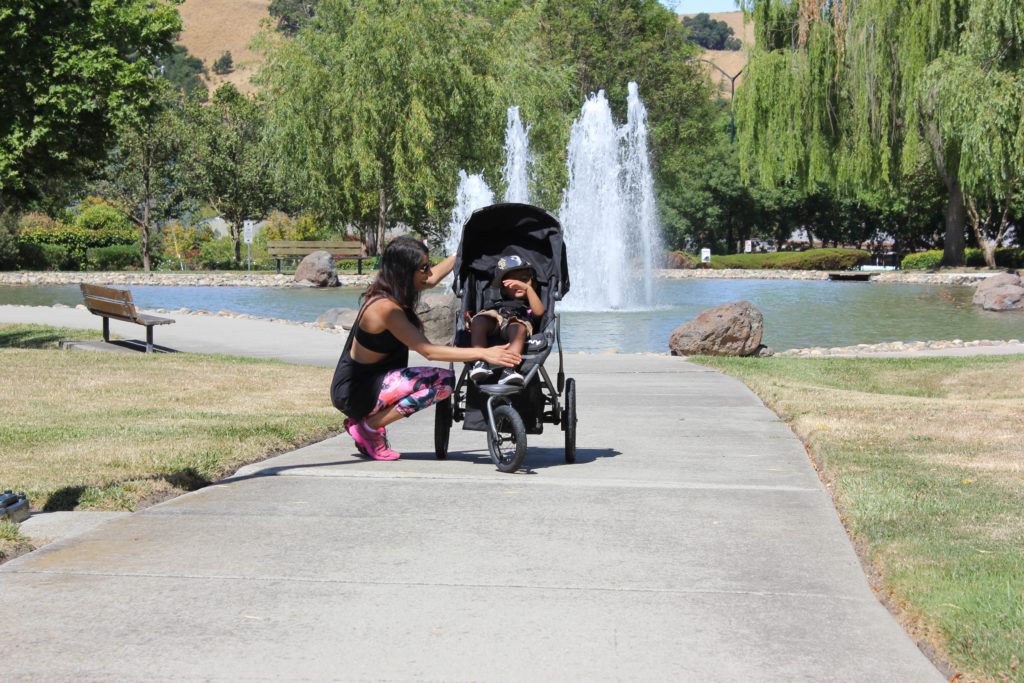 The kind people at Joovy sent over their Zoom360 Ultralight jogging stroller for us to test out, the opinions stated here are my own. My son is so happy to go in this stroller. The seat is roomy and has two mesh pockets for water, snacks, etc. Both of my kids are in the higher percentiles for height and weight. The Zoom360 has a weight limit of 75 lbs, which means it will last us a long time.
There is lots of storage space in the basket below and an awesome neoprene console with two cupholders and a zippered pocket. The zippered pocket is the perfect size for my keys, sunscreen, bug spray and phone.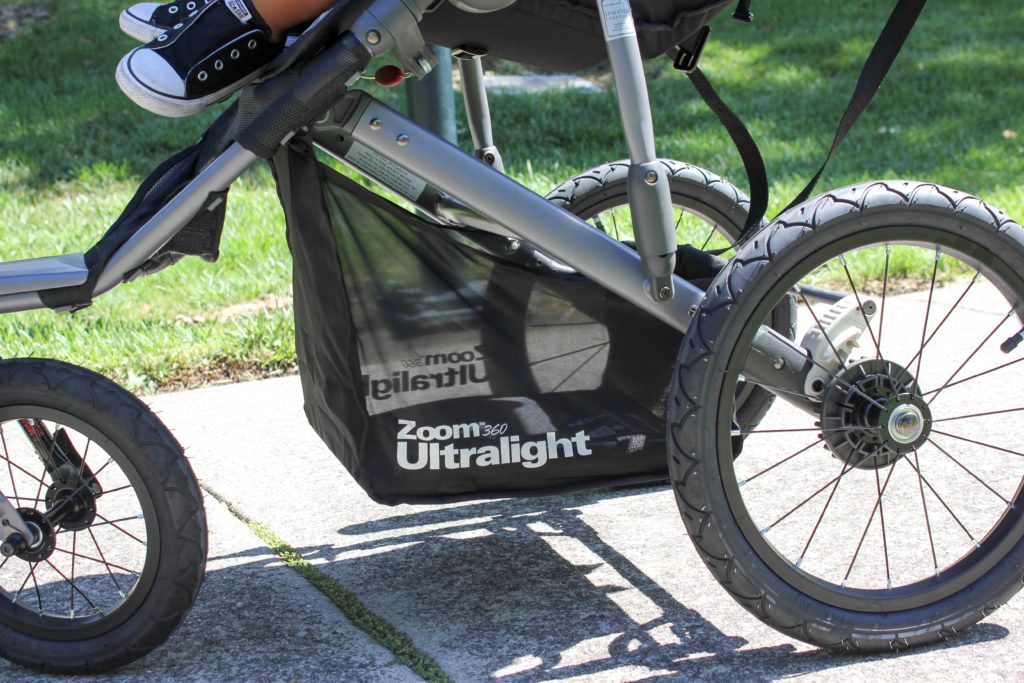 Speaking of sunscreen, the canopy is huge and has a peek-a-boo window for checking on your child. You can also purchase a rain canopy for bad weather days.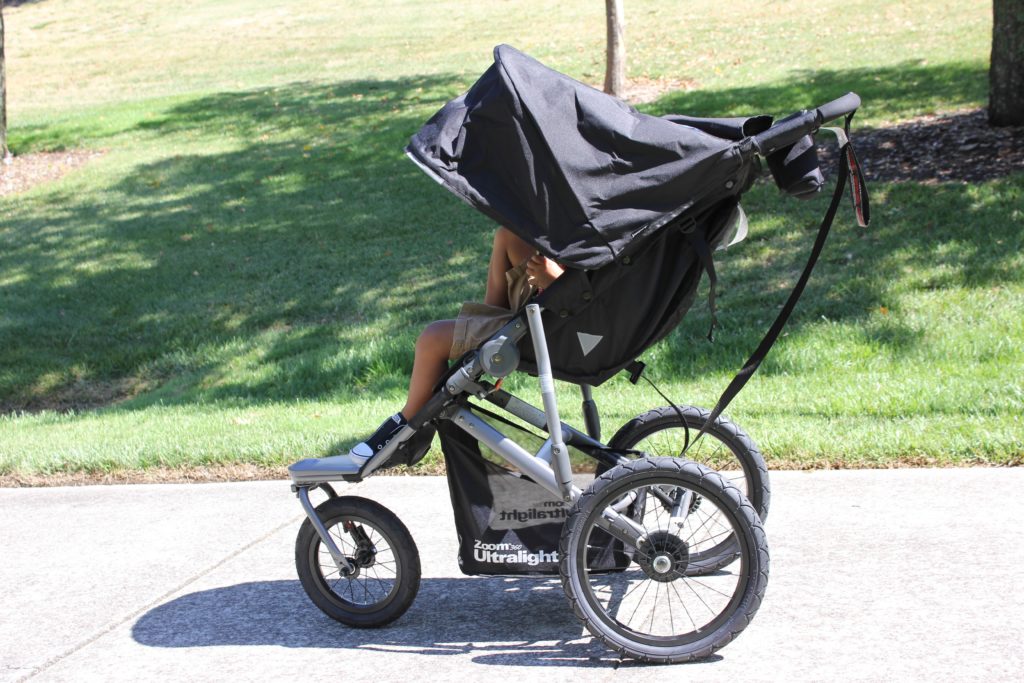 The front wheel can lock straight, or swivel freely, making it adjustable to the type of running you plan on doing. There is also a tire pump attached in the lower basket. The stroller is easy to push and very light to load in and out of the car. Also the Zoom360 is more affordable than some of it's jogging stroller competitors with all of the same high quality features (if not more!).
I also love that this stroller isn't too bulky. I was able to maneuver the stroller through the crowds in coffee shops without problem.
Next time you don't have time for the gym, but want a quick workout…try this lower body workout below (there is also a video attached to view my awkwardness in action)!
Jog for 10 minutes. Push the stroller brake on.
Hold the handle of the stroller and squat down. 20 squats.
Next, stand with your side to the stroller and lunge forward. Kick the lunging leg back in a sweeping motion to get an additional glute-lifting in. Repeat with other leg. 15 on each side.
Get into a sumo squat position and raise your heels. Start alternating heel raises while in this position. Do 30 of these!
Do 40 sit ups. Make it fun, high five your baby or tickle his toes when doing this one!
Repeat this circuit two more times…starting with the jog! That should make 3 reps total!
Check out the video here!
And learn more about the Joovy Zoom360 here!
How do you stay active with your family?
With love,
Shahla