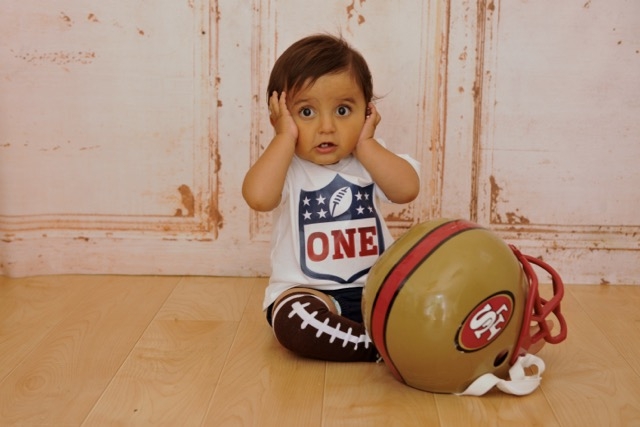 For my son's first birthday, I really had hoped to keep things simple. I had hosted three very over-the-top birthday parties for my daughter and I was pinterest-ed out. And quite frankly, I suffered from postpartum depression after having my son and it lingered for a long time. I was starting to feel a bit better and last minute I decided I wanted to celebrate his first year of life with a fun party. The good thing was that after three parties, I learned what I wanted most…time with the birthday babe. I didn't want to get bogged down with the food or games, I wanted to enjoy the day.
I had always wanted to do a San Francisco 49er football themed party (our hometown team). My husband would want me to point out here, that he is not a 49er fan. He was born in Texas and was raised as a Cowboys fan (insert my gagging noises here). He wanted a Cowboys birthday, and he can definitely have one when he gives birth to a baby.
Here is a look at Bubba's 49er birthday!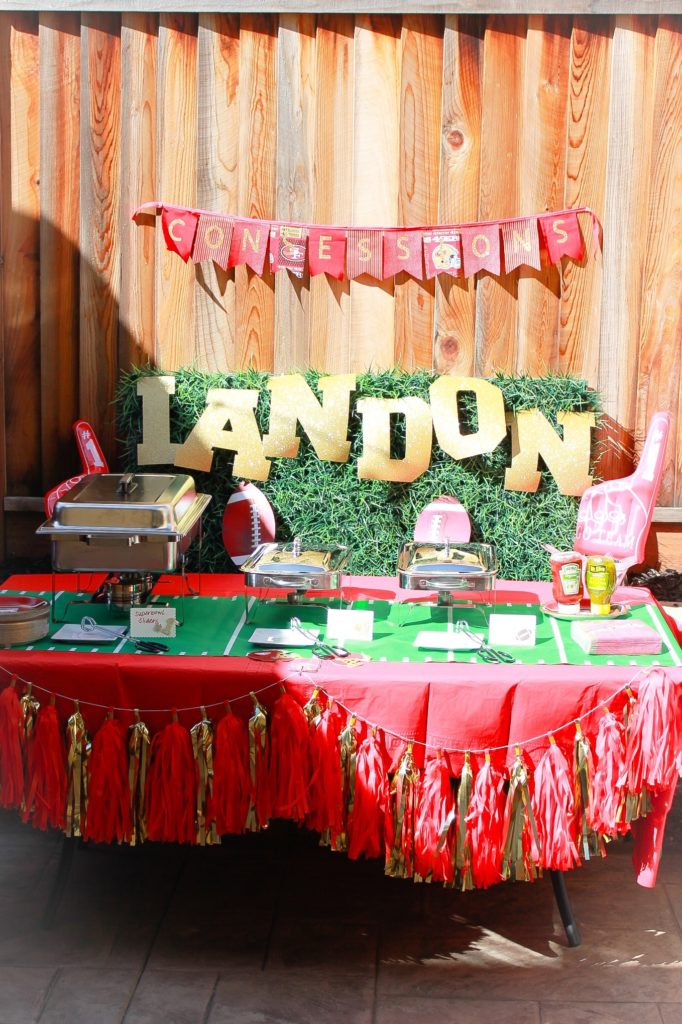 I made the grass backdrop to use for photos and it ended up being perfect for this party. I bought a large MDF board from Home Depot and painted it green and then I took squares of grass (from the Easter section of Hobby Lobby) and nailed them to the wood. My mom cut the letters for Landon's name out of gold glitter paper. She also made the adorable fabric concessions banner. The inflatable fingers and football cutouts are from Oriental Trading Company. The runner was from a local party store. I linked a similar one here. The tassel garland was super full and awesome quality. I purchased the garland from an Etsy shop called, Tassellove. I love supporting small shops and this shop was able to do custom colors.
I kept the menu simple, concession-style with burger sliders, hot dogs and mini pizzas. I ordered mini sliders from a local burger shop. For the pizzas I made Bagel Bites, which are always a kid favorite and very easy to make a lot at one time. I made the hot dogs in a crock pot (I put two dozen in the crockpot and turned it on to low for 4-5 hours, you don't need to add anything else). Once the hot dogs were done, I put them in buns and stuck them in a chafing dish. I invested in chafing dishes one Black Friday years ago and they have been the best purchase during parties. Here is the link to the kind that I used.
Snacks were also kept really simple– kettle corn, Pirate's Booty, chips, dip, veggies and fruit. For my daughter's first birthday I had cotton candy, shaved ice and a popcorn machine…it was a little too much to handle for me. We decided to keep all of that in storage and spend time with our guests more. I took chalk marker and wrote various football sayings and formations (x's and o's) right on the tablecloth. I also wrote Landon's nicknames and some of the fun things he was doing at that stage. The green runner was a putting green for the kids and the foam finger was an item from a game. It was perfect to have the hand showing "number 1" as a recurring theme to the party. The lanterns, flag banners and tassels were also from Oriental Trading Company.
Landon had two different outfits one was his "ONE" t-shirt and the other was a cake smash bow tie, suspenders and diaper cover. You can find them at my mom's Etsy shop here. She can customize colors and fabric choices to fit your team choice. My husband made the goal post from an instructional post I found on Pinterest. Here is a link to the directions he followed. I found that awesome huge football and tee here. It kept the big kids occupied and even some of the adults really big kids were trying it out.
I loved an idea to use an autograph football as a guestbook…I saw it on Pinterest of course! Genius! You can get your team's football here.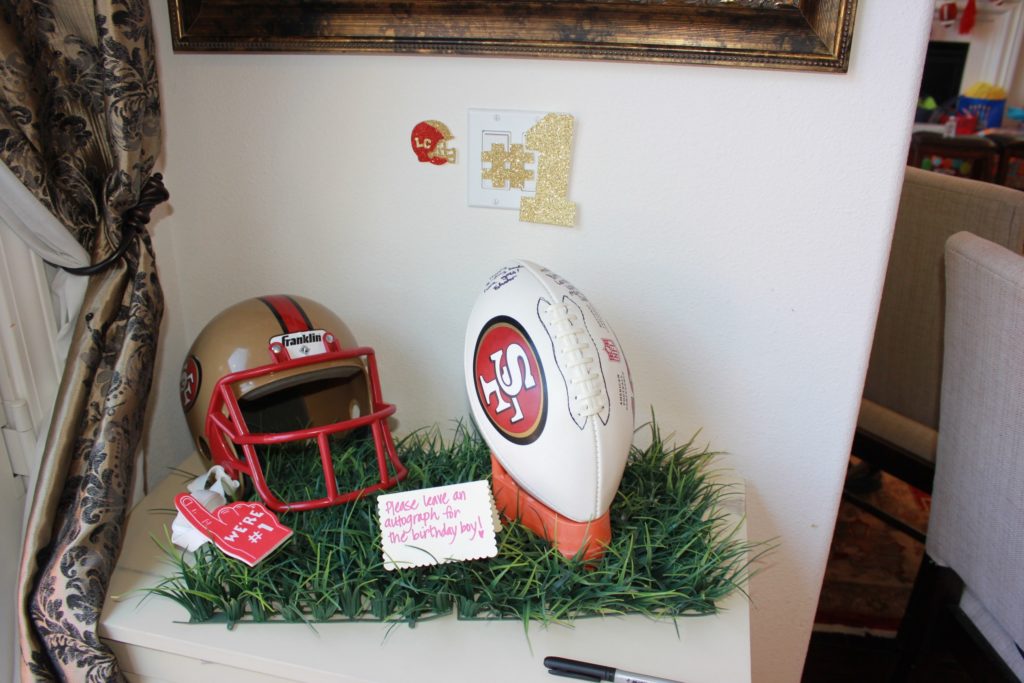 We decorated Landon's walker and high chair using tassel garlands from Party City and these adorable #1 finger cutouts that my mom made for us. He wasn't walking yet, but was definitely trying to mow people over in his walker.
I kept the favors simple by giving out these mini football rubber duckies with a thank you tag. They are smaller than your average rubber duck, but the kids loved them. Click on the picture to check them out.

Last but not least, I splurged on a first birthday photo shoot. These pictures were perfect as I do not have a lot of pictures of Landon by himself being the second born. Also, she set up an adorable cake smash that was beautifully captured. Landon was not shy when it came to digging in!! If you are ever in the Bay Area please check out Custom Moments Photography— Karen is AWESOME!!! My kids always ask when we are going to see her at the next photo shoot. Here are a few of my favorite photos ((and the hilarious one at the top).
With love,
Shahla
This post contains affiliate links.