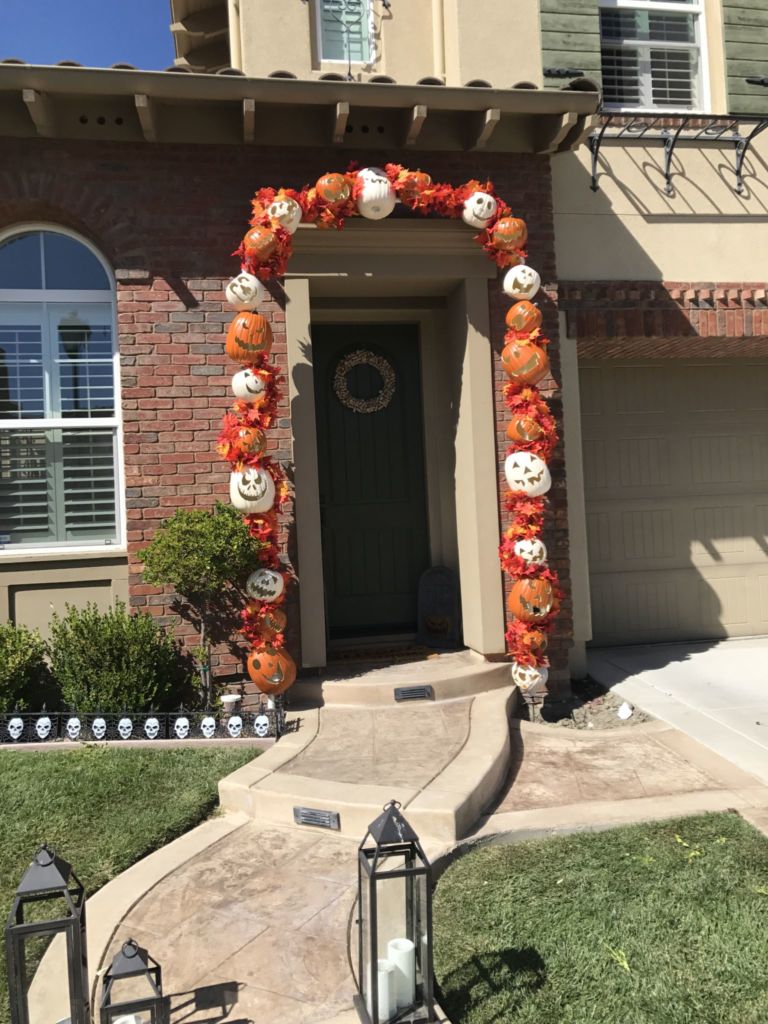 It's no secret that I have a slight (ok, huge) obsession with all things Halloween. I would have my pumpkins, Jack O'Lanterns and skeletons up in August if it wouldn't be considered 'weird'. But since I am weird (and totally ok with that) I put them up in September!
My husband and I were looking for a great archway that could transition from Halloween to fall harvest and through Thanksgiving. We stumbled upon Living to DIY with Rachel Metz and really liked this archway.
Many thanks to Lowe's Home Improvement for partnering with me on this project!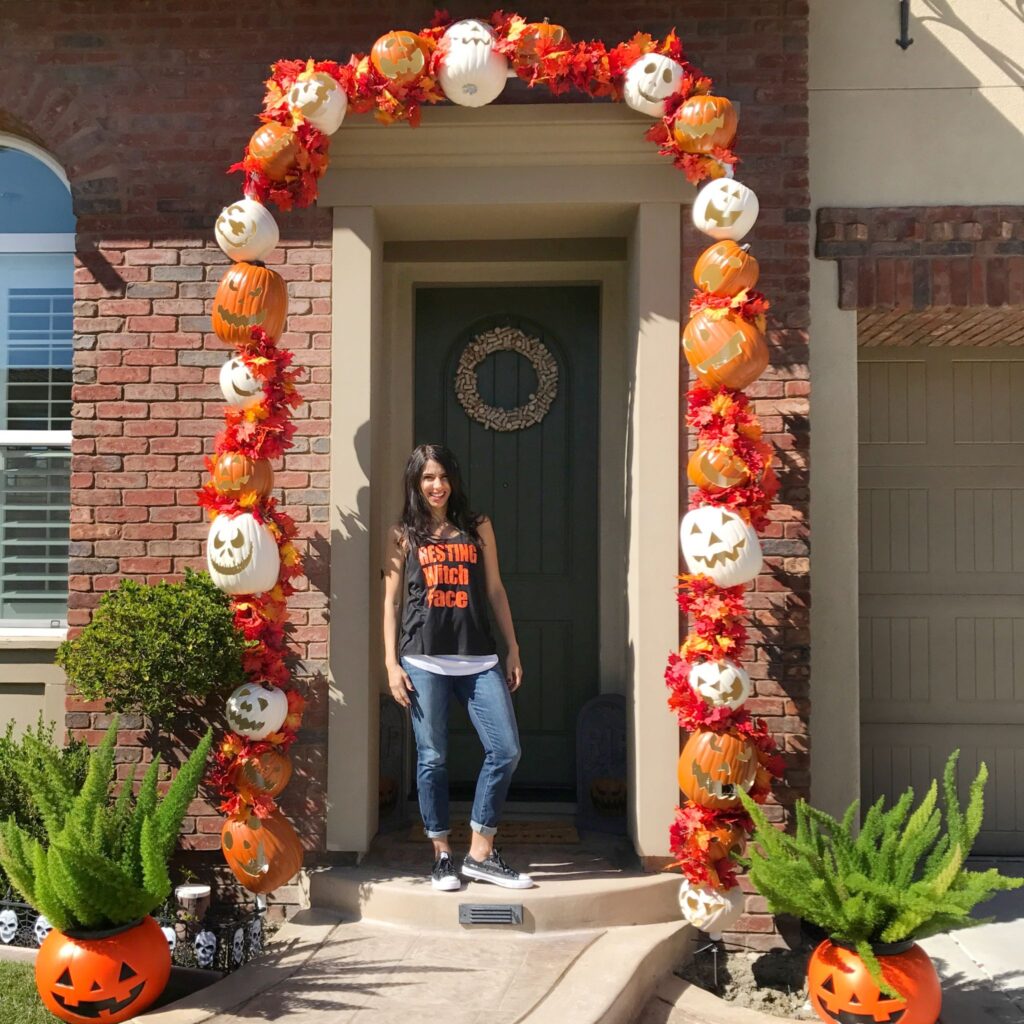 We used 24 craft pumpkins in orange and white (they are hollow on the inside and make for easier carving). I purchased them from various craft stores.
To help guide with carving and having some variety in faces, I used my Silhouette cutting machine and vinyl. The company upgraded my software to the Studio Designer Edition in exchange for my feedback. I really like how easy it is to cut from files that are not within the Silhouette library! I quickly was able to import my own Jack O' Lantern face styles without issue. My husband used a hot knife to carve the faces.
We bought two 4 foot rebar rods, 1″ width PVC pipes, connectors and zip ties from Lowe's. The PVC pipes were cut down into smaller pieces so that we can easily store this decoration during the off-season.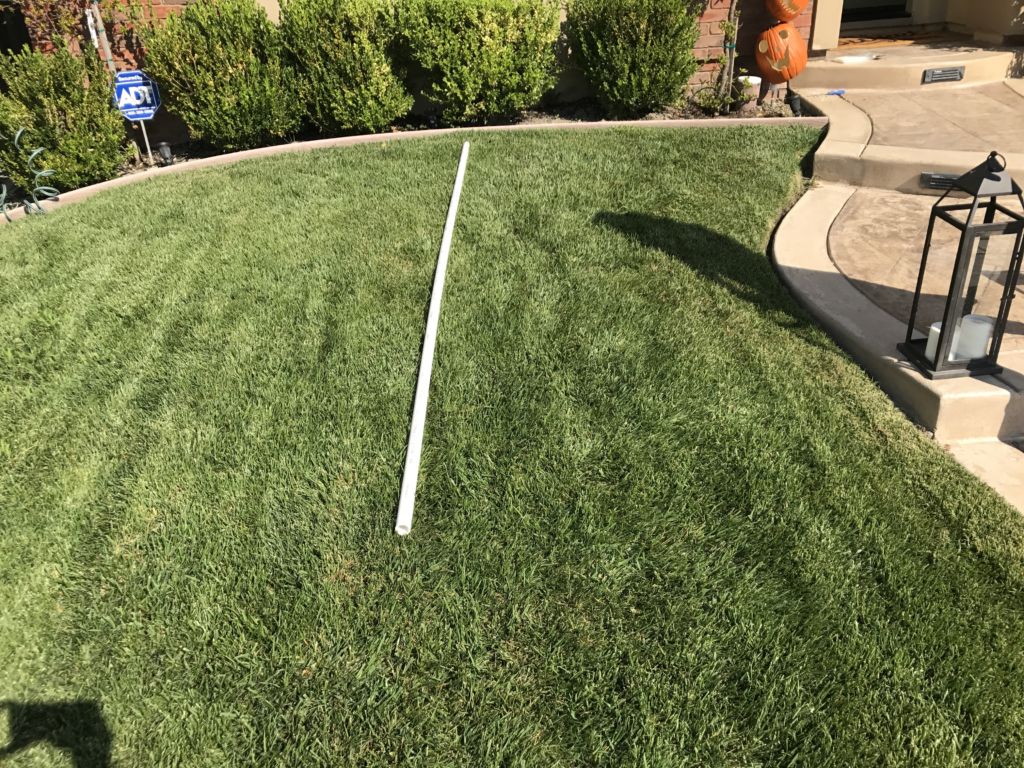 We laid down the PVC archway and decided where the pumpkins were going to go. The rebar was hammered into the ground enough so that half was in the dirt and half was above the surface.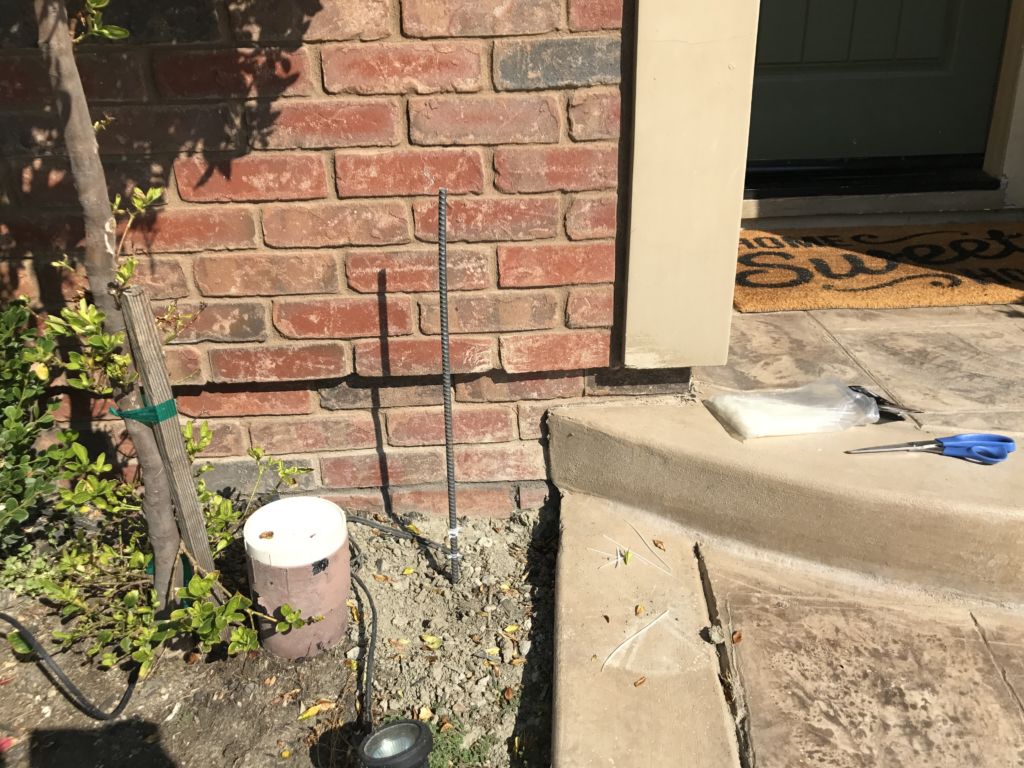 The PVC caps also were drilled at the bottom so that they could be placed over the rebar for support. We used multiple zip ties to create a stopper for the PVC pipe so that it wouldn't rest on the ground.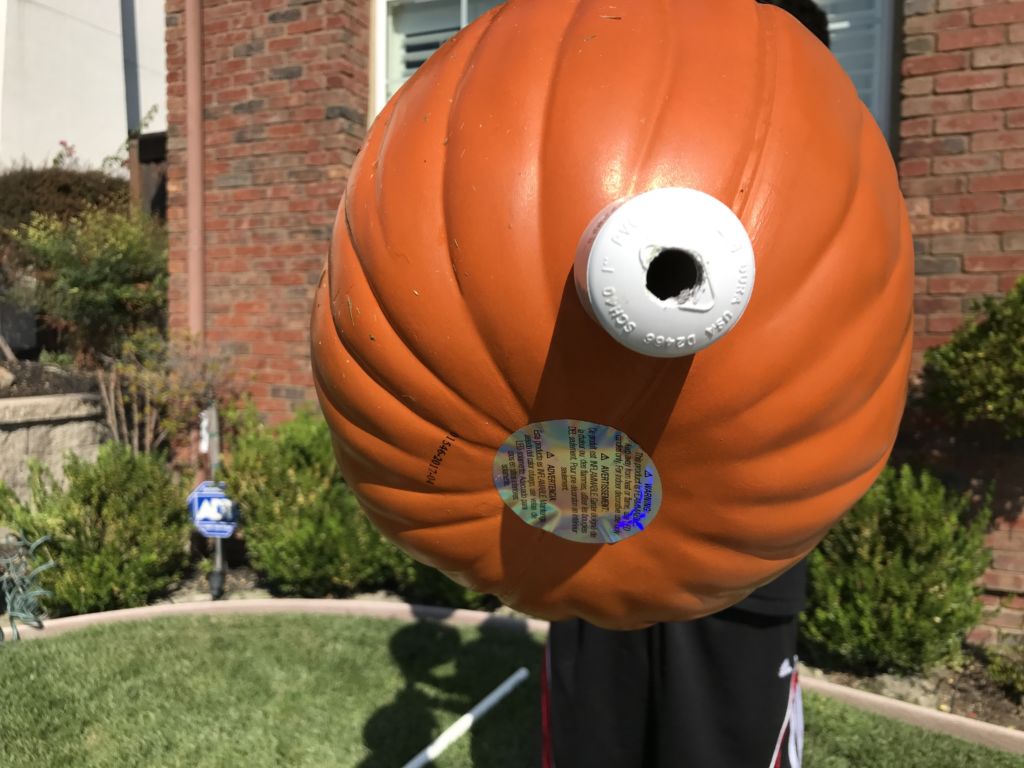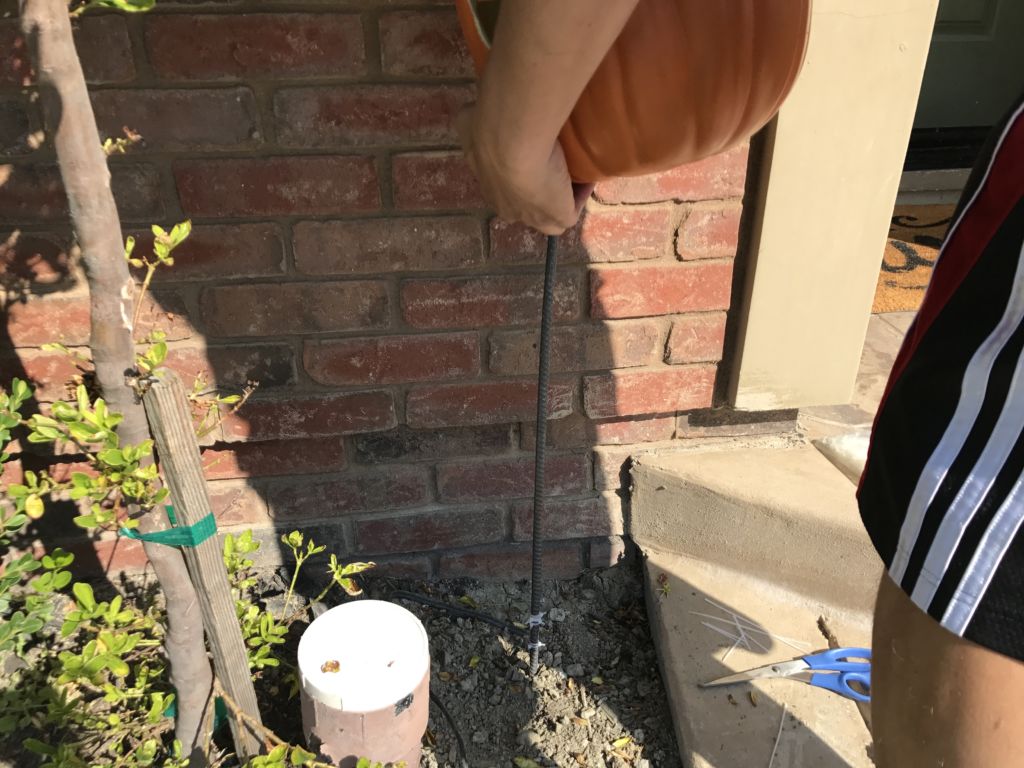 My husband used a drill to cut holes into the pumpkins to allow for the Jack O' Lanterns to slide right onto the PVC pipe. The beauty of this archway is that it doesn't need to be perfect. It looks better when the pumpkins are in all different directions.
We used zip ties to position the pumpkins where we wanted them to stay. I purchased 8 stands of fall leaf vines from a craft store and wrapped them around the PVC pipe and pumpkins. I used zip ties to secure the vines in between each Jack O' Lantern.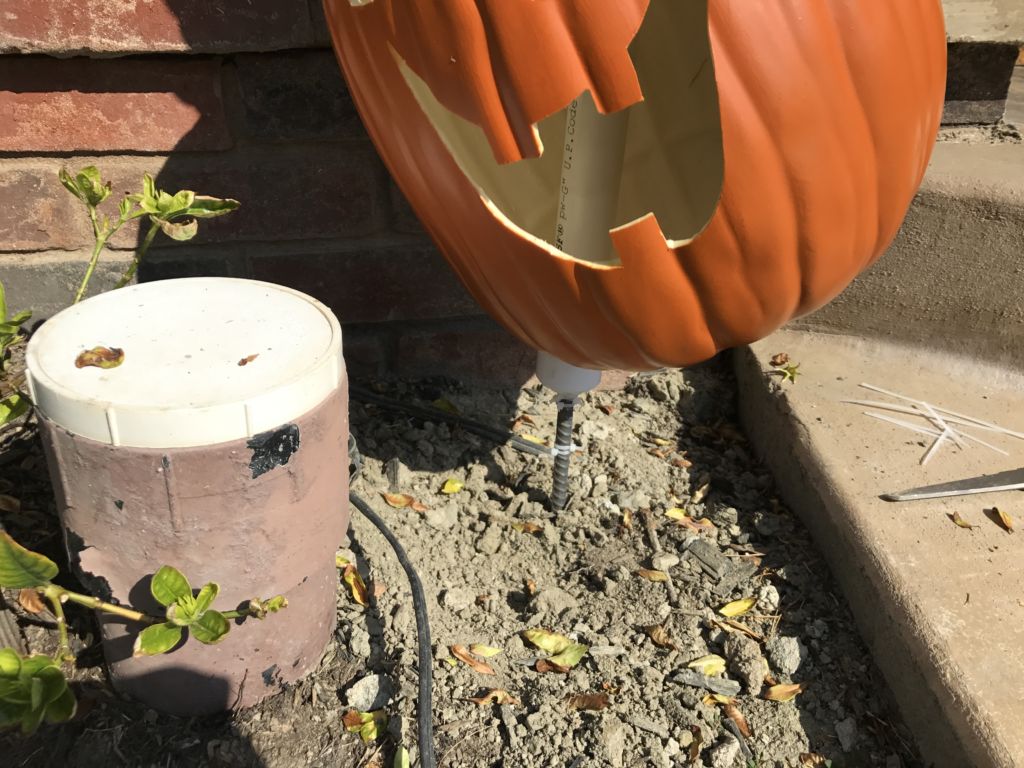 For extra support, my husband screwed two eye-shaped screws in the wooden beams of our house. He then attached wire to the screws and PVC pipe at the top to ensure stability in the wind.
The Jack O' Lantern archway lights up at night with the help of these awesome battery-powered, timer LED strings from Lowe's. I bought them in orange and purple and put them all on flashing.
The part that I loved most about this project was making it transition beyond Halloween. When we drilled the holes into the pumpkins to allow them to slide onto the PVC pipe, it also allowed me the ability to easily turn around the Jack O' Lanterns. I could easily hide the faces and the Jack O' Lantern archway is magically (well magically that I didn't trip and fall off a ladder) turned into a fall pumpkin-patch-style arch. Add some scarecrows and voila…goodbye Halloween, hello Thanksgiving!
Check out the video below to see more!
With love,
 Shahla