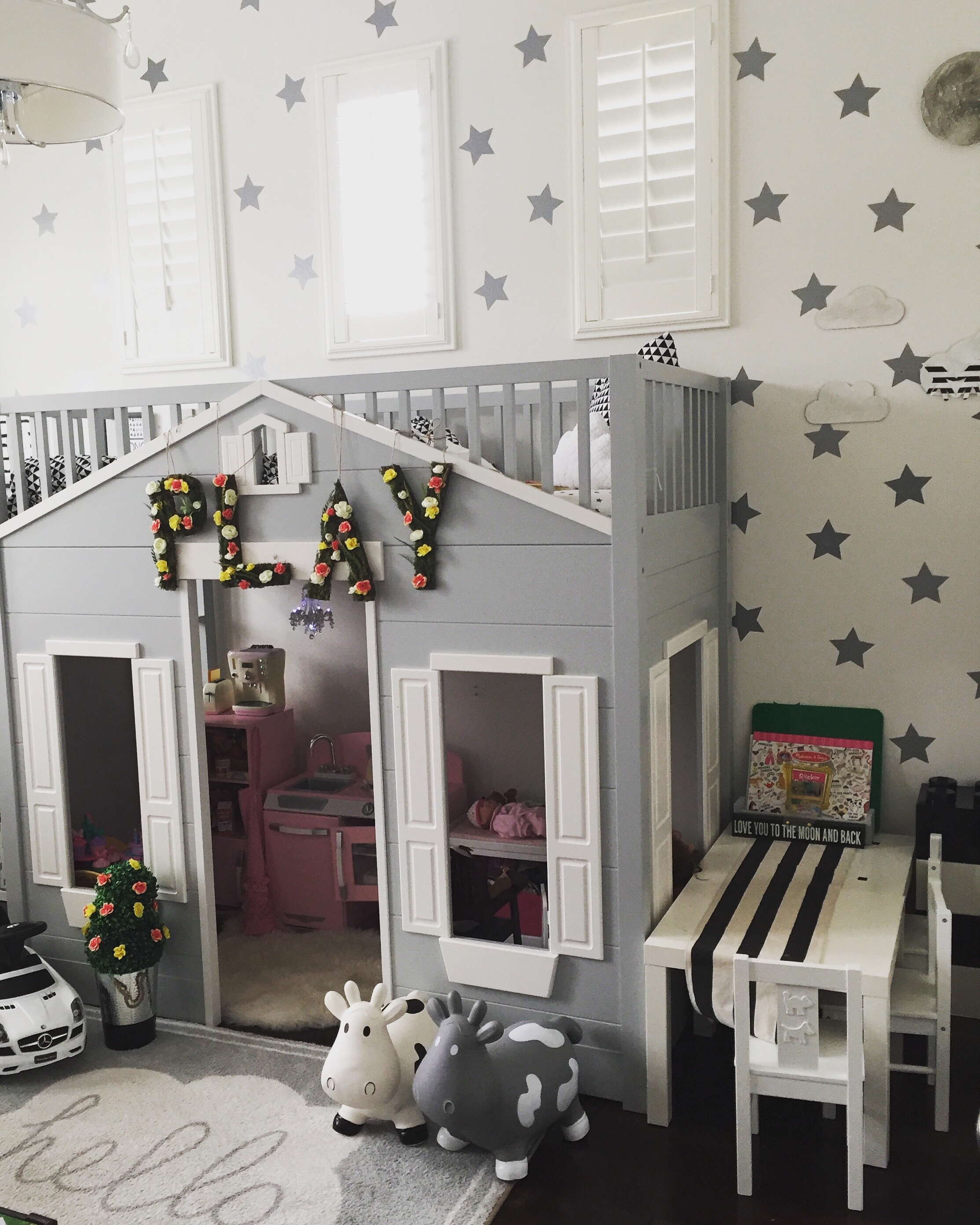 Toys are pretty much my enemies in our house. They are everywhere. I can't tell you how many times I have sworn under my breath for stepping on a magic clip doll/lego/dinosaur/barbie/freaking whatever.  Anyone else find dried playdoh in the toy bin? I curse Disney Collector and her playdoh dress making shenanigans. I don't curse her too much though, because those 20 minute YouTube videos really help me get dinner going. So sorry, DC and THANK YOU!
My whole thing with the enemy (toys) is; I don't want to see you. I don't want to step on you. I don't want to be overwhelmed by you. So, I have been trying to minimize the clutter by giving the playroom a good dose of organization. So here are some of the things that have kept it clean 60% of the time. Progress not perfection, people! As you are checking out below, count how many times I say "IKEA hack" as I'm fairly certain I said it a dozen times.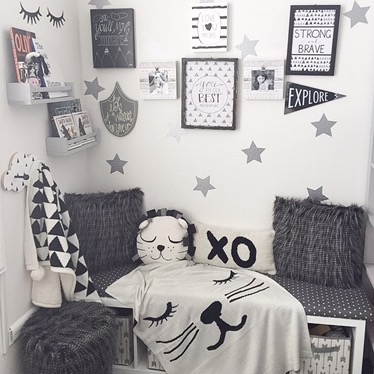 Here is the reading nook. It serves as a good place to chill with some great book shelves (IKEA spice rack hack. Check it out here!). The throw blankets are hanging in case it's cold and the kids want to snuggle. Right now they just end up on the floor to drive me bonkers! And the bench is also functioning as storage for Barbies, blocks, puzzles and instruments. Check out how to make this bench here (it's another IKEA hack!).

My kids are really into Disney Tsum Tsums. They are adorable but hard to keep track of in a drawer. I got this great distressed shelf from Hobby Lobby to keep them organized and easy to pick up and play. P.S. I don't think the shelf was supposed to be distressed. It was the last one and banged up so I just convinced myself it was part of the look.

This little teepee cover was made by my mama to replace the cover we had prior. She dressed it up with pompoms and adorable windows with roll up shades. The kids hide some of their stuffed animals in a bean bag (just the cover not beans) in there. Fine by me! They also hide in there and pout when they don't get their way.

The drawing wall is made up of a steel L (both of their names) where we hang fun pictures. I found it at my local HomeGoods. Also, I took an open back IKEA frame and turned it into a display for art using cardboard covered with fabric, ribbon and clothespins. The kids love the chalkboard. I took a large frame and painted it silver, then I took it to Home Depot where they sell MDF boards that are already chalkboard coated. I had them cut down the MDF to fit the frame. We stapled the back and voila! Thank you, Pinterest for the idea to use drawer pulls to hold chalk. I got mine here.

Another thing that the kids love about this wall is the racetrack my husband built on the wall. He used three IKEA book ledges (yes, another IKEA hack!) and sawed one at an angle and used putty to seal up any odd gaps. The book ledge was called the Ribba…they may have discontinued it, but come out with something similar. I used washi tape for the road markings and put all of their cars in a basket near the starting line. It isn't pictured (because I'm pretty sure the kids took it down), but we put a ledge protector on the end so cars aren't constantly slamming into the wall.
I love playing Lego with the kiddos. I didn't think there was a cute way to organize them until I found these adorable Lego boxes. They come in all shapes and sizes. The duplo ones take up quite a bit of space (hence the four boxes!) but I know they will be great for the classic ones once we transition out of the choking-danger-stage. Check them out here , here, and here!

Oh and how cute is that moon nightlight? Goes perfectly with the scene…you can find it here. Also, I made those cloud pinboards with my little helper. Check out the how-to here!
Let me know if you have any organizing hacks I need in my life!
With love,
Shahla
This post contains affiliate links.
b37a89ac940b6197f8376faa215e8ba75e2038e2bf39d8045b