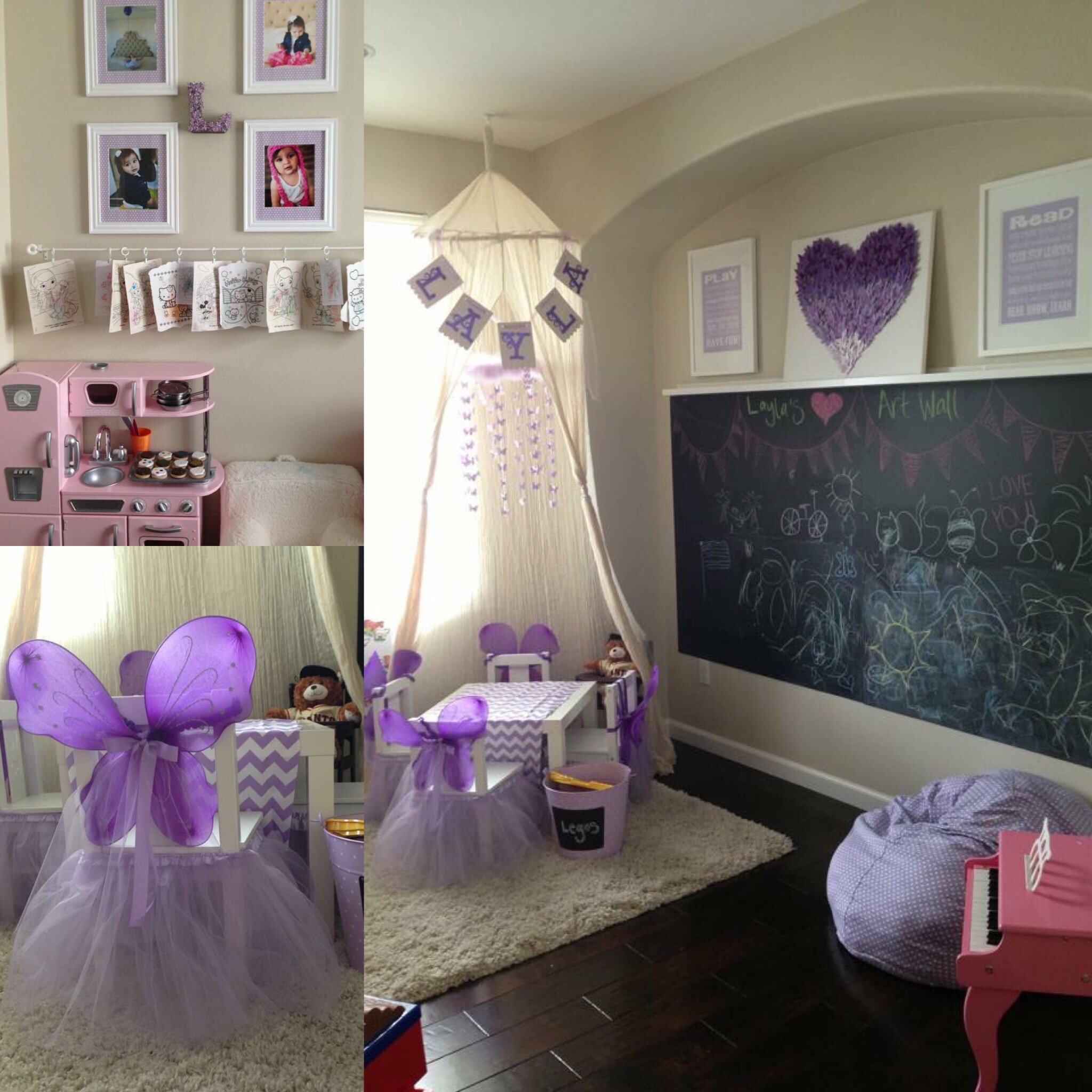 A little over three years ago, I made our loft (the husband's former man-cave) into a playroom for my daughter. It was a lavender room fit for a princess with lots of tulle and sparkle. I really didn't think it through that my second child could be a boy. So when we brought our little guy home 18 months ago, I knew a change to the playroom was inevitable.
One of the changes was to move it downstairs. We spend almost all of our time downstairs while I'm cooking or tidying up, the kids would play in the family room. I noticed most of the toys would migrate down the stairs. So my poor husband had to give up his office downstairs for the new playroom. He's a trooper as he's been forced out of two rooms so far. The new playroom is also great because I can close the door when it is a total mess as opposed to the loft where I had to look at it all the time. If I don't see the mess, it's not there as far as I'm concerned.
Now, other than Landon's "baby toys" there are no toys allowed in the family room. Just because they aren't allowed doesn't mean they don't sneak in. But it is a lot easier to get them to go back to where they belong.
The playroom is set up with a quiet side, building side, pretend side and a crap-what-am-I-going-to-do-with-these-big-obnoxious-toys side. The last side will not be pictured.
For the quiet side (where non-nappers play while nappers are napping so they don't get woken up and mommy goes bananas) I set up a cozy book nook that also serves as storage for some smaller toys.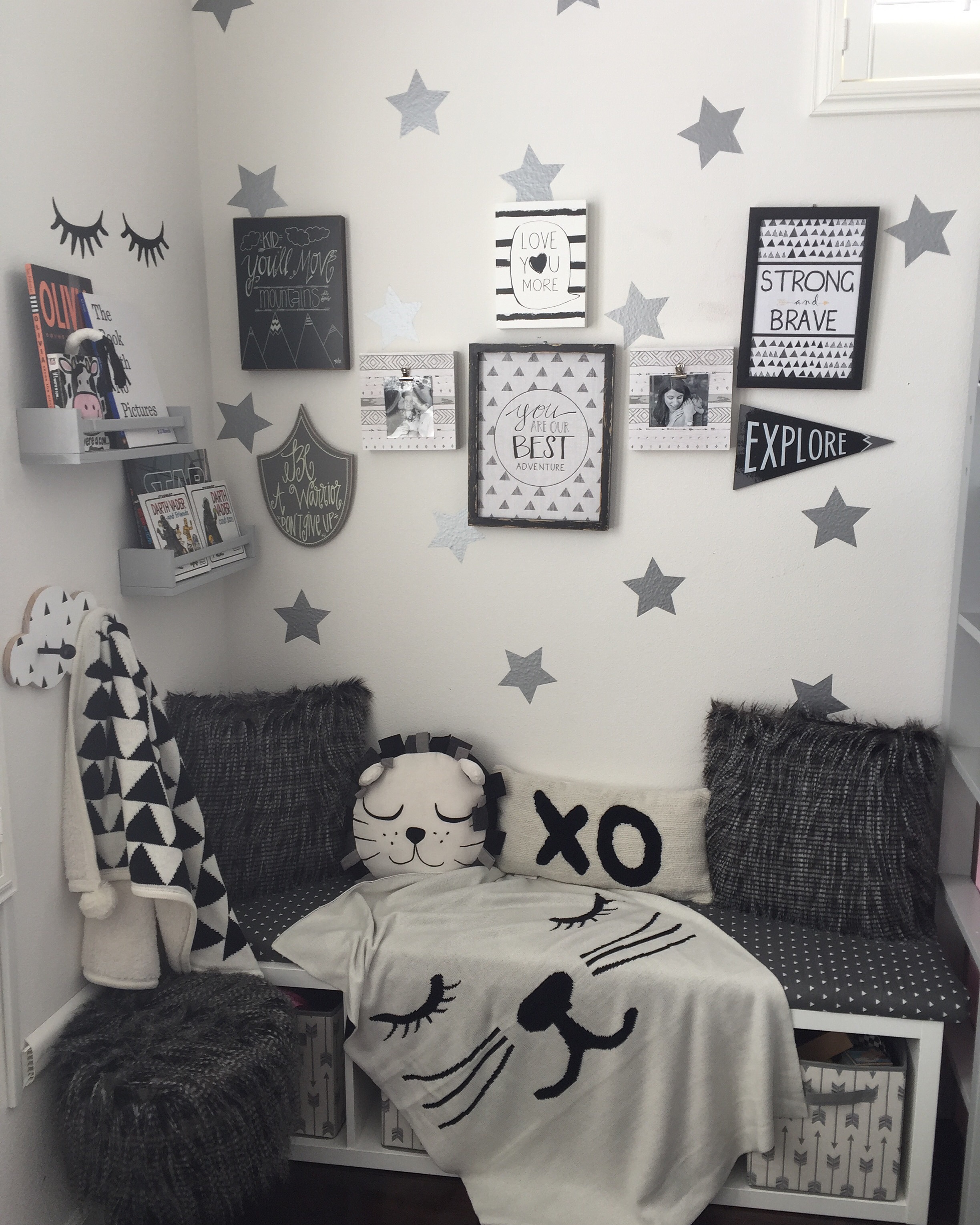 I love that this room is a mix of DIY, small etsy shops and all different pricepoints.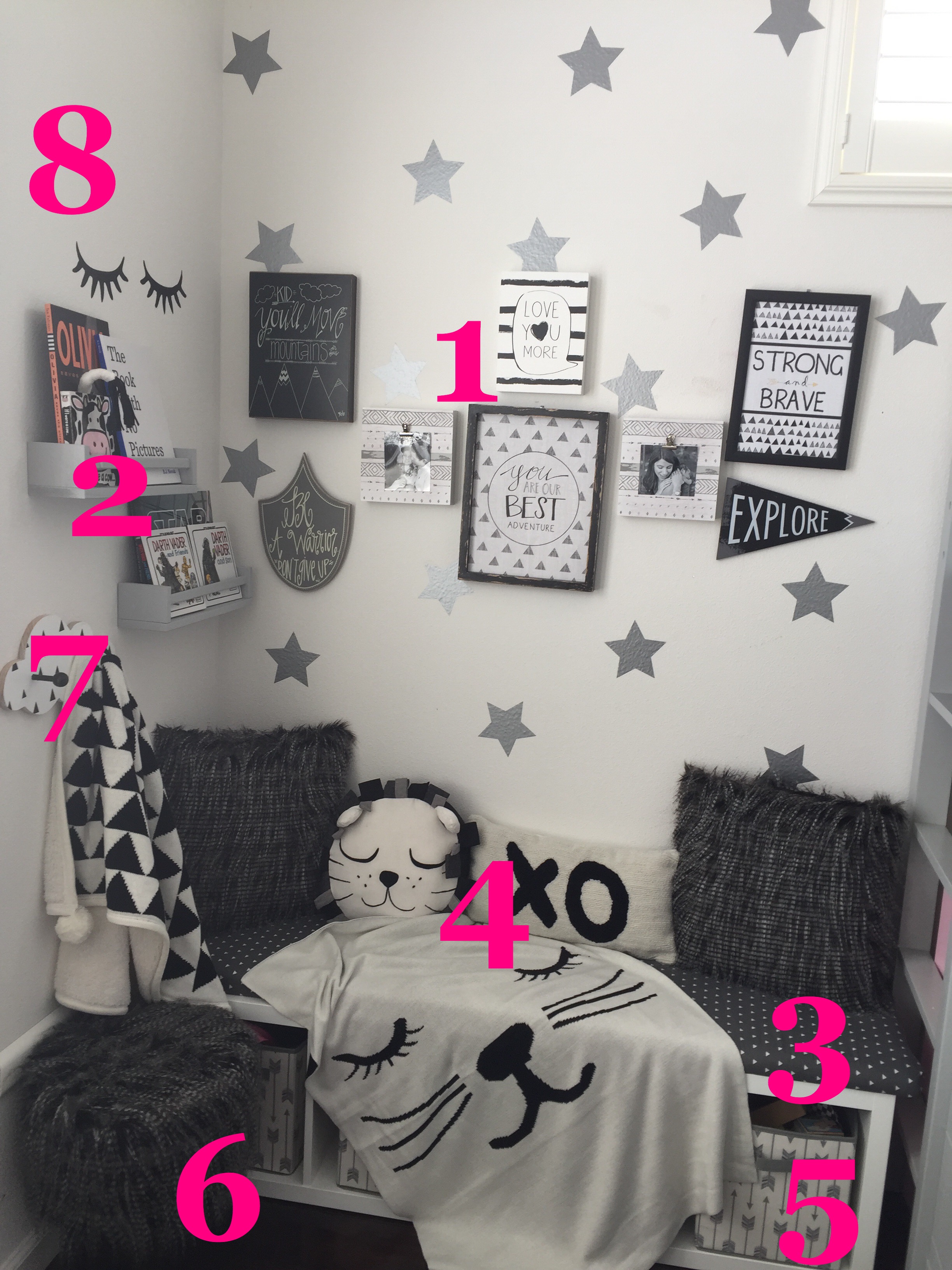 I found all of these fun wall decorations at Hobby Lobby. I love all of the inspirational sayings and the claw frames. My mom clued me in that Hobby Lobby puts their wall art on sale almost every other week, so if you don't need them immediately…wait for the discount (I believe I got these for 50% of, a steal!!).
These book-ledges are IKEA spice racks. Each are less than $5. I went to Home Depot and bought a zero VOC paint sample for less than $3. I've been able to use that little sample for 3 spice racks and I still have some to spare. They were super easy to put together and paint b
This bench is a DIY from an earlier post. It is a storage cubby from IKEA on its side with cushions. Such a cozy place to relax and read.
The lion pillow, xo pillow and two throws are from Pottery Barn Kids' Emily + Merritt collection. They have a fabulous monochrome look.
The storage bins are from Hobby Lobby
The furry stool and matching pillows are from Target's Nate Berkus collection.
That cute cloud wall hook is from Hobby Lobby.
The star decals and sleepy eye/eyelash decals are from my mama's Etsy shop, Layla Bug Designs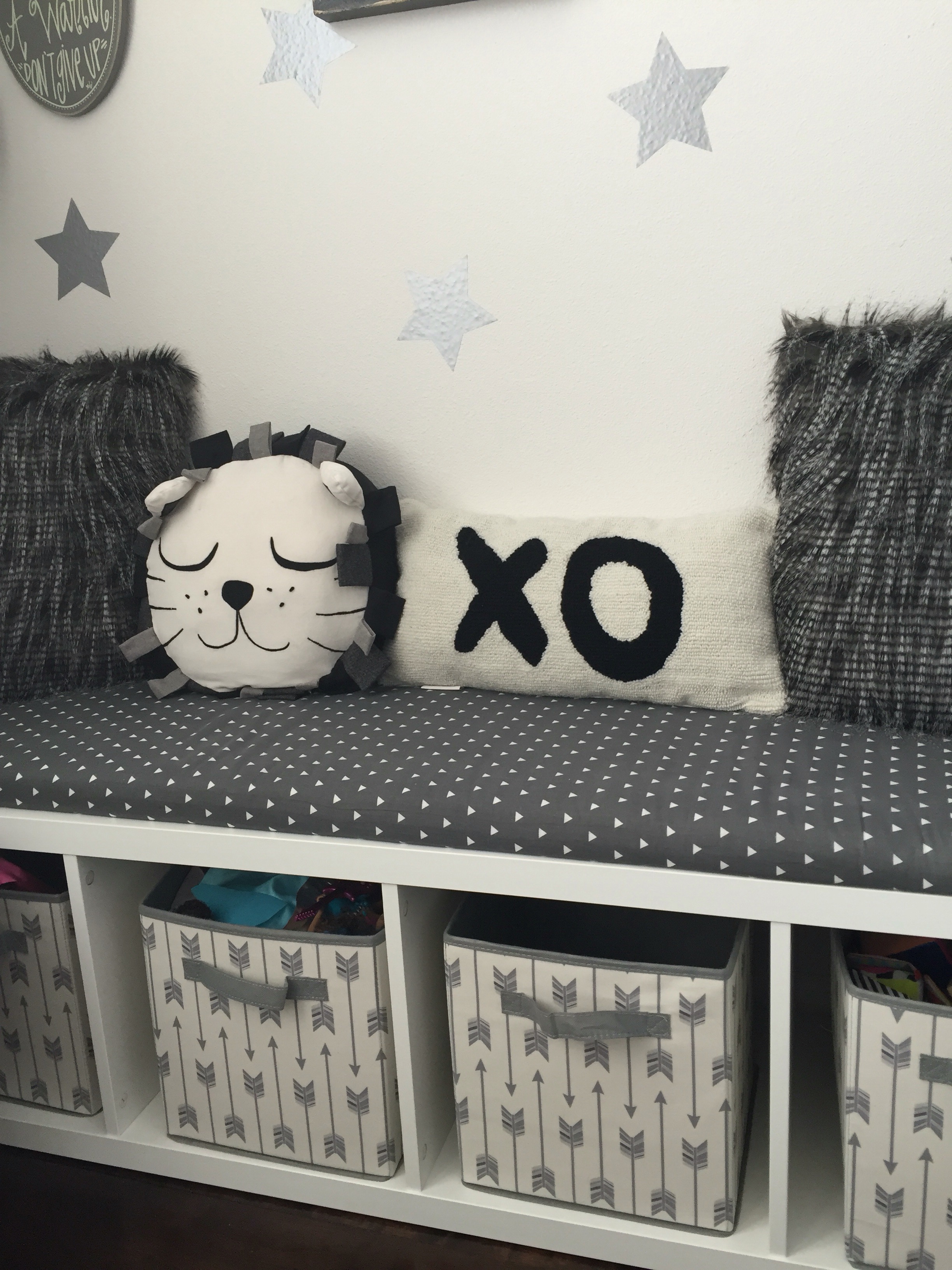 This booknook gets used a lot. Another bonus is that the bench serves as a barrier to the bunk ladder keeping Landon from climbing up and Layla is able to have a secret hideaway up on the loft bunk when she needs time to herself. Or as she tells him, "Yandon, yet me yiiiive…I need privacy!!" I love how she pronounces her 'L's. I will be bummed when she grows out of it as it's one of the few "baby-isms" I have left with her and I'm holding on to it so tightly.
With love,
Shahla