I've been seeing a number of beauty blurbs lately saying that contouring is "out" and strobing is "in". The thing is, contouring (the use of shades lighter and darker that your skin tone to accentuate and slim down certain areas of your face) has been around forever and has just become more mainstream and accessible through various palettes, compacts and double-ended crayons that you can find at Sephora (or any other beauty retailer).
In my experience; accessibility doesn't necessarily equate to ease and successful application. I tried to fine tune my contouring skills and ended up looking like a hot mess many a mornings at school drop-offs. I now reserve contouring for special events (aka days where I have loads of time to blend, blend and BLEND my makeup).
Strobing is using a lighter and/or iridescent shade to accentuate areas where light naturally hits (above your cheekbones, temples, Cupid's bow, bridge of your nose). This is to create a glowy look. In my MAC days we just called this technique, highlighting…or at least this is what it sounds like to me. It's much more forgiving than contouring and takes hardly any additional time to do.
Here are some tips:
Start with a clean and moisturized canvas.
Keep your makeup dewy. If your concealer is full coverage, add a bit of moisturizer to make it less matte. Or skip the concealer and use a great tinted moisturizer/BB cream.
Know your skin, if your pores are on the larger side…don't use powder illuminators. Use a liquid form. The powder will just accentuate your pores in my experience.
Less is more! Start with a lighter application and touch up if needed.
Here is a cheat sheet I made to show you where to apply your highlight:
I've included a list of some of my favorite highlighters to achieve this strobed look…from steals to splurges you will be glowing either way.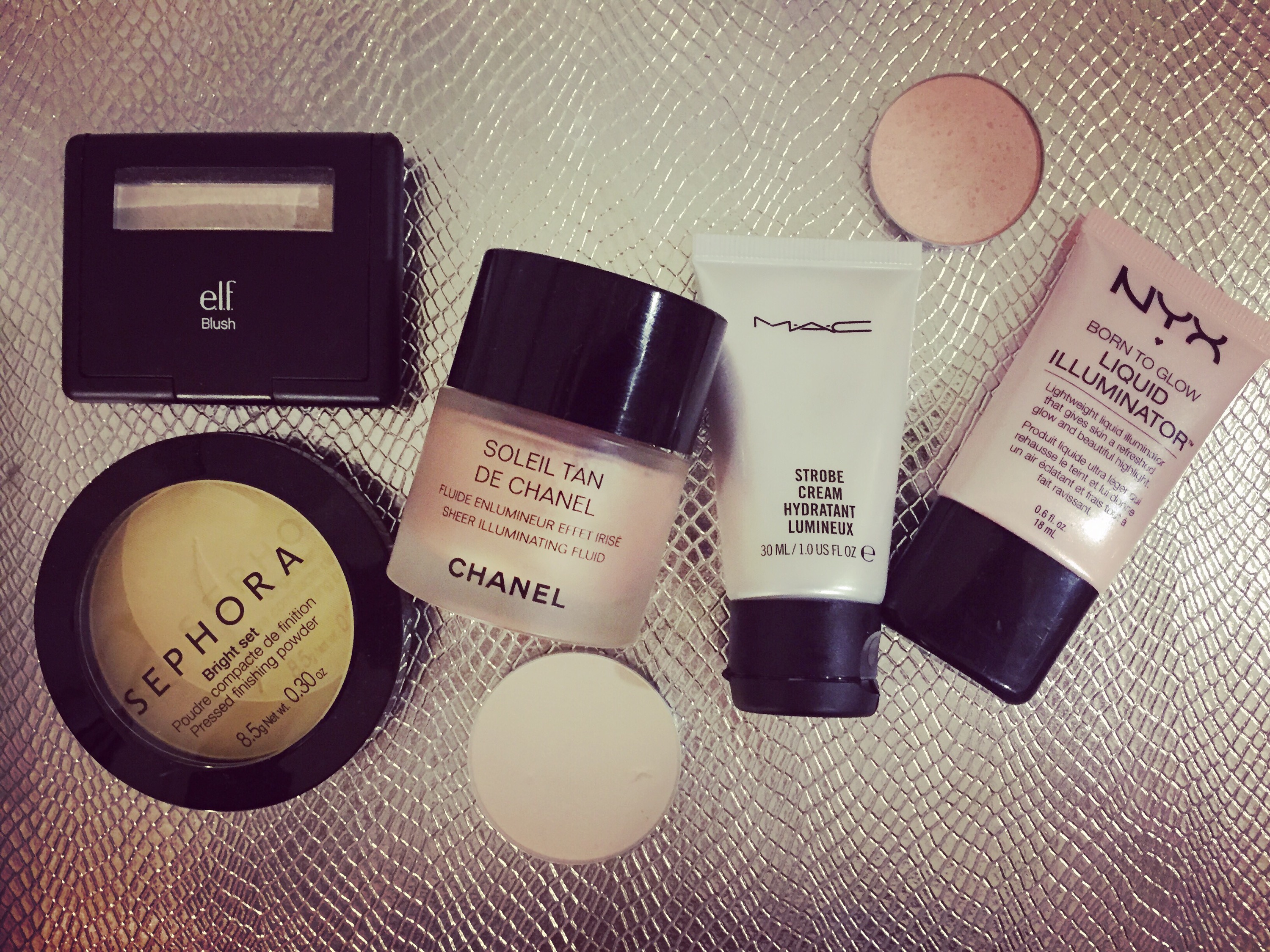 Powder:
E.l.f. Blush in Gotta Glow (steal)
Anastasia of Beverly Hills Contour Kit color in Sand (splurge)
MAC PRO finishing powder in Emphasize (splurge) — this one isn't too shimmery which is great for my swimming-pool-sized pores.
Sephora Bright Set in banana (steal)– again not too shimmery and very similar to the Ben Nye Banana powder that a certain reality TV family made famous.
Liquids
NYX Born to Glow Liquid Illuminator in Sunbeam (steal)
Chanel Soleil Tan (splurge)– I use this when I am tan need a golden hue as opposed to a pearl tone.
MAC Strobe Cream (steal for flexibility)– you can use this all over or just as a highlight.
Experiment and see what you prefer…if it is neither contouring nor strobing, that's okay too! Feel free to reach out with any questions!
Love,
Shahla