A few weeks ago, I shared some of my favorite Dollar Store Halloween decorations (you can catch the post here). I added some more spooky additions to my house that I wanted to share as well. Some of these additions look like they cost a lot, but really they are so inexpensive!

While roaming the Dollar Tree you may come across these cheap-y looking plastic skulls. They are super lightweight and will probably blow away in a gust of wind (unless you nail them down…I have tried that, it works!). All they needed was a little love with metallic spray paint! Side note: when my four-year-old daughter and I go shopping and I am looking at a frame/shelf/chair/whatever she always exclaims, "Oooohhh and you can paint it gold if you want!" The girl gets me! She totally knows that I get a little carried away with painting things all shades metallic! Well whether it is silver, gold or copper…a little spray will definitely up the luxe factor. Check out my revamped $1 skull above! I did the same to a foam carving pumpkin from the dollar store too! The creepy netting is also from the Dollar Tree.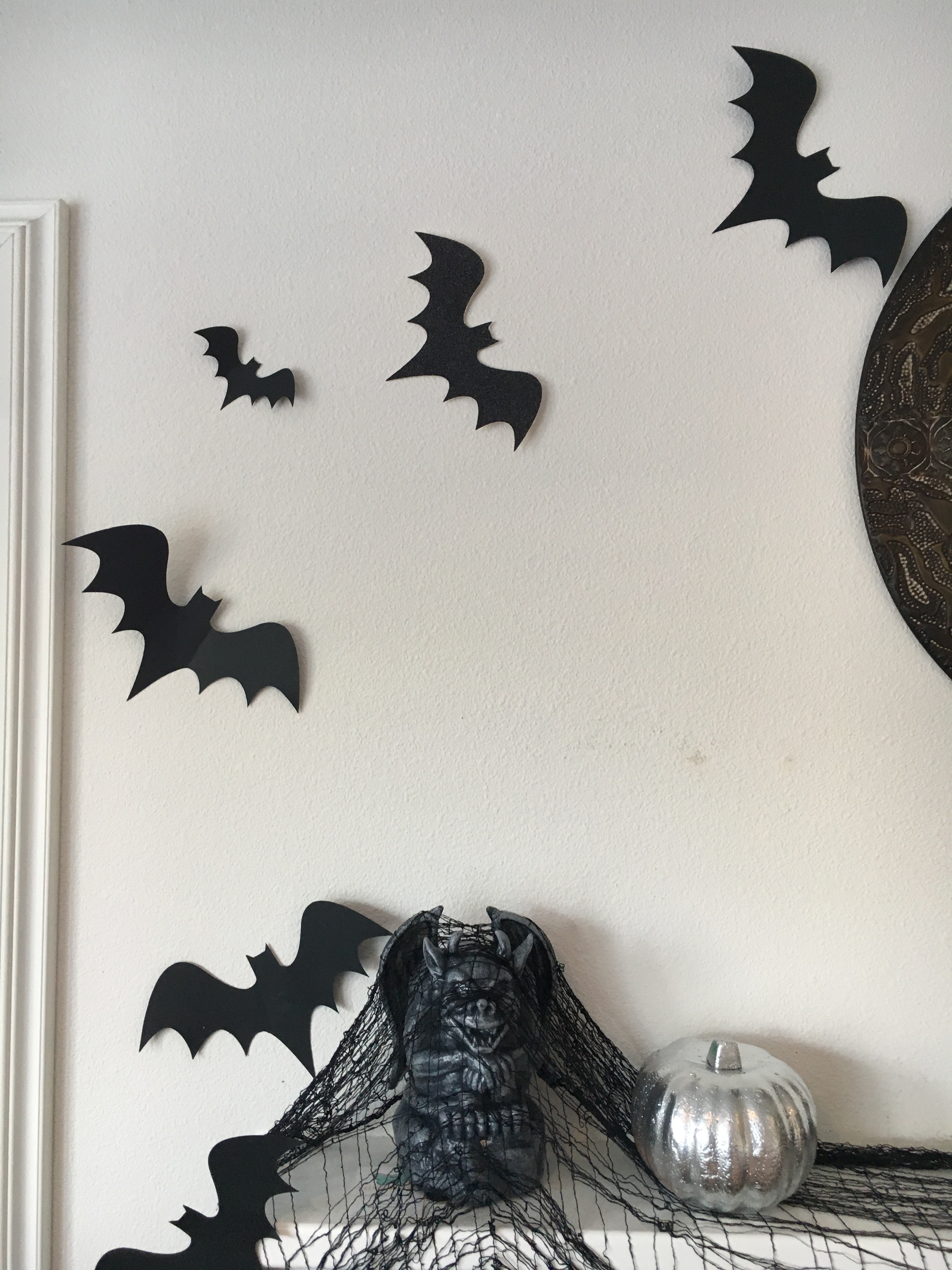 I love these bats my mom cut out for me on cardstock! She was kind enough to send me a downloadable file to share with you all! You can print on white paper and use it as a cutting stencil on black cardstock. When taping them on the wall, I bend the wings back a bit to give a 3D look. I also use foam adhesive to make them look like they are floating. The bats make the mantel look spooky and upscale at the same time. They also make adorable place cards or gift tags for BOO's! I even printed some on blank paper and had the kids decorate them with crayons, poms and stickers. They made an excellent craft! The possibilities are endless!! The picture of the printable is below, but you can download the free file by clicking on the following link: bat-printable.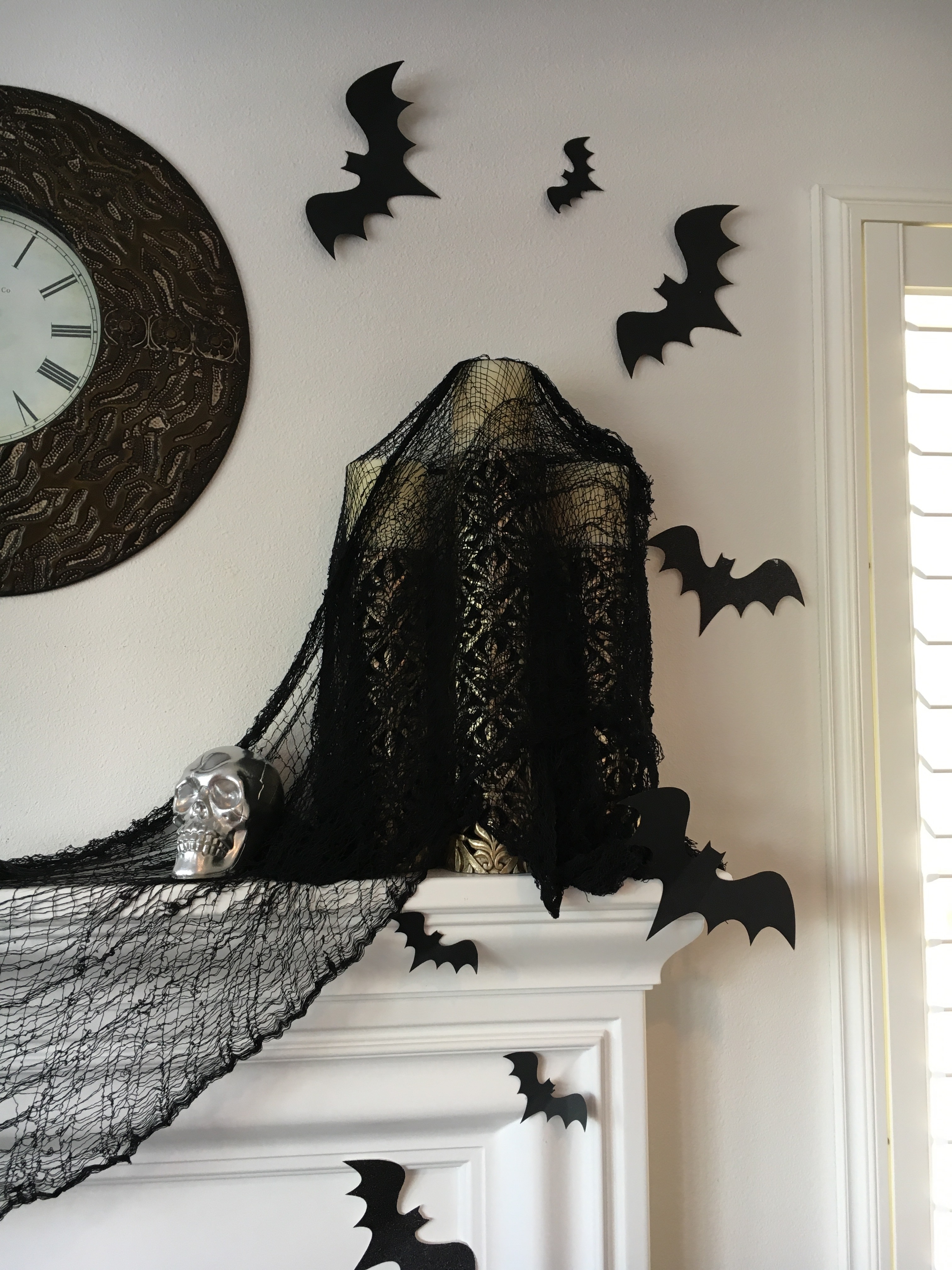 That pumpkin turned out great! I bought the foam one from Target and painted it black! Here is the tutorial from my last blog post. The only bummer is they don't do too well in the heat! We live in California where fall temperatures do not come around until later in the game. So my real pumpkins that were painted black (and outside under the sweltering sun) all melted and imploded. Insert my tantrum here. Well, I made foam ones for inside the house to make up for it. And I learned that the black pumpkins should be kept in the shade! Oops! The marbled and chevron pumpkins are from the Dollar Spot at Target. They had such a great selection of Halloween goodies!

We were playing around with some spooky filters! By the way, aren't their outfits the cutest?! I purchased both the sweatsuit and the peplum dress at H+M! I love that her dress has a gold heart! And the skeleton hand clip is also from H+M!

Have you seen the light up pumpkins in the trees of Disneyland around Halloween? We totally tried to recreate this with $1 pumpkin pails and these timer lights (here is the affiliate link, I get a commission at no extra cost to you). They turned out so great!! We have them scattered throughout the yard and they look like they are floating in the dark!
Also, last but not least…the garland in the playroom was fun to put together (excuse the mess, but hey…real life!). The BOO balloons were bought at the Target party section for $5 and the glitter spiders and corrugated pumpkins were sold in sets of 8 for $1 a pack! I punched holes in the spiders and pumpkins and the kids helped me string on the pattern. I love how all the different textures look together.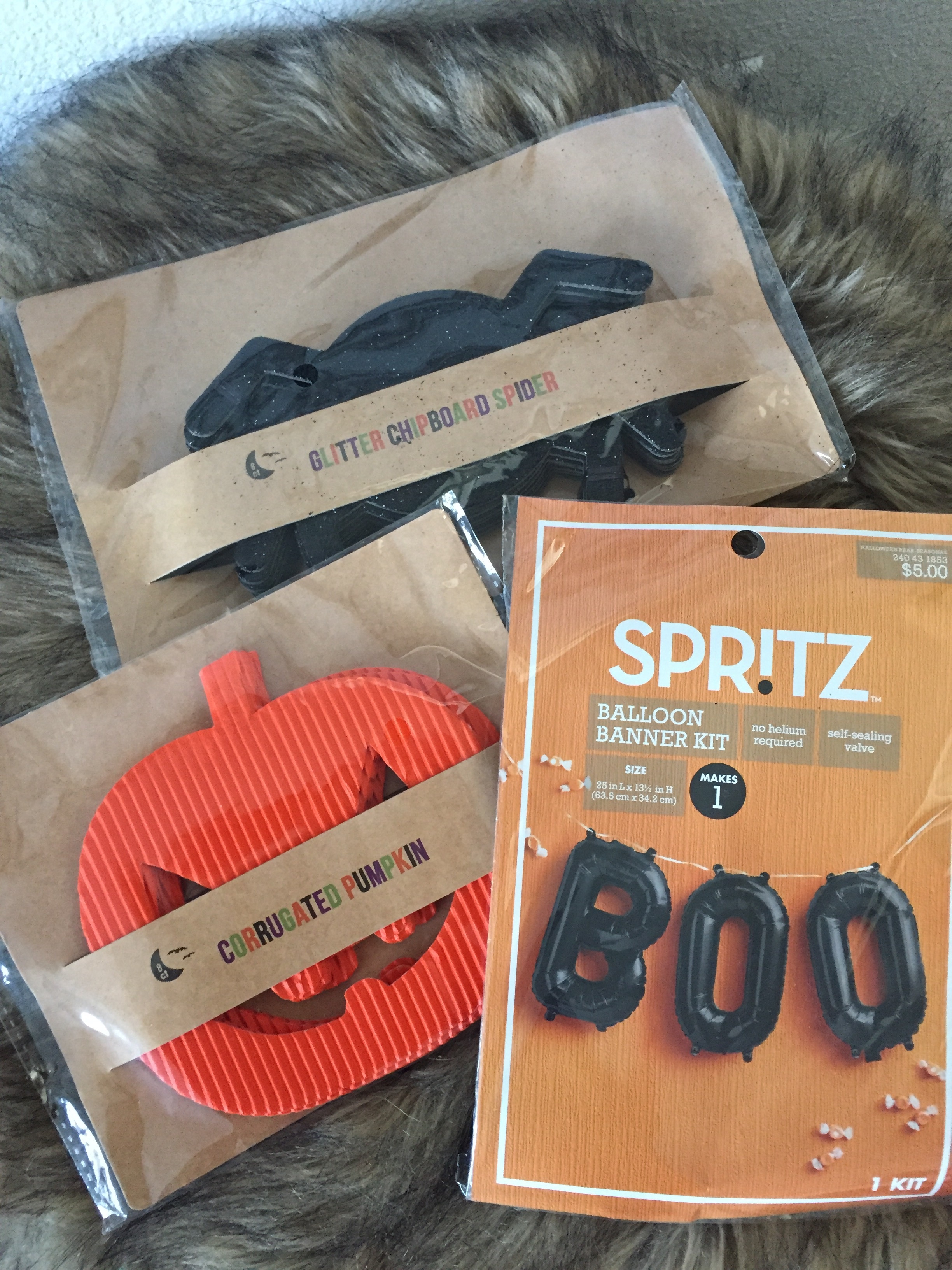 They can find a way to make everything fun!
Am I the only person who wishes October lasted for two months?!
With love,
Shahla