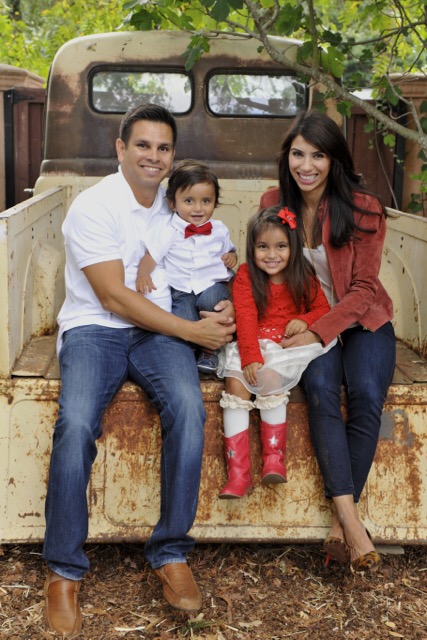 On the day of our family holiday photo shoot, I can be found running around trying to dress a squirmy baby and attempting to catch and dress my toddler who thinks it is hysterical to run away from me when she's undressed. I fix the toddler's hair only to find that she pulled it out minutes later. I comb the baby's hair and find him in the hallway with a tiara perched on his head one minute and a bucket over his head the next. Yeah, I am going to have to be an onsite hair stylist for them.
Oh and then there is me…dressing myself, doing my hair and makeup (I usually end up running out of time and do my makeup while Rob drives to the shoot). Meanwhile, there is my husband. He not only has time to calmly get ready, he also meticulously irons his clothes for the day.
Disclaimer: I have not ironed my clothes since 2011 (year my first child was born). For a couple reasons…first, who has the time?! Second, I cannot figure a way to do it safely with two small children.
Needless to say, it's not a stress-free day! The one thing I look forward to is seeing our photographer. I know and trust that she will not only capture a bunch of fantastic moments, but she will put us at ease too!
That is the number one most important piece of advice I would give anyone is to choose a photographer you are comfortable with and click with in terms of personality. We were referred to our photographer, Karen, through friends and I adored her so much the moment I met her. She has this knack of melting my stress away. Well, not all of my stress, because the kids are a total hot mess on photo day, but she does make me feel better. It always feels like we are meeting up for coffee…no rush to get through things, not business-like. Her passion and love for her work and clients shows through.
Here are some other tips:
Do a test run a day or two before. Have everyone try on their outfits from head to toe. This year we had a few hiccups the day of…Rob's sweater had a coffee stain, toddler outgrew the dress I had bought a month prior and baby outgrew his shoes I had planned on him wearing. Oh and of course I had second thoughts on what I was going to wear. By trying everything out a couple nights before you avoid the scramble stress on photo day.
Feed the kids. Even if it is earlier than when they normally eat. You never know how long the shoot can run and "hangry" kids are not fun. Actually, feed everyone. Hangry adults are the worst! Bring goldfish, gummies, whatever snack item to bribe the kids and get them to look in certain directions. My daughter definitely looked down at her brother when there was candy corn next to him. You thought that was just magic, didn't you?
Bring a backup outfit. Whether they play in the dirt or worse (we had a newborn shoot where my son pooped all over ALL OF US) it can come in handy. Sometimes the photographer has a vision and it's nice to have the option.
Don't go too matchy-matchy. I actually felt we were a little too coordinated this time around. That's because our original outfits didn't pan out as planned. If it were up to me, Rob would be wearing a different colored shirt so that he and our son wouldn't both be in white shirts and denim. You know the matchy look I'm talking about…white button downs and khaki bottoms on everyone…or black tops on everyone with denim (Rob and I did that during my daughter's newborn shoot. I think it took away from her, the exact opposite of what we were going for). Just. Don't. Do. It.
Pack a kit with wipes, sanitizer, safety pins, hairspray or gel, hair bands, etc. Oh and don't forget the ibuprofen! I get so tense during these things worrying about my son falling that I take prophylactic headache prevention measures.
Here are some of my favorite moments…there were so many I tried to keep it down to a few ok so I included a lot.
If you are in the Bay Area, check out our photographer, Karen Henrich with Custom Moments Photography, by clicking here. And just so you know, I was not compensated nor was I given a discount to share her information. I just really, really like her.
With love,
Shahla