I know, school just started and I'm sharing a Halloween post. With how quickly summer flew by, Halloween will be here before we know it.
My family is all about decorating for Halloween. Every room in the house has some spooky flair. Our love for Halloween decor is so strong that we will decorate inside around September and wait until October 1st to decorate outside (you know, so the neighbors don't think we are too weird!).
A lot of my Halloween decorations come from the dollar store. I have quite a few from craft and specialty stores, but the addition of dollar store finds help up the spook-factor.
Here is a before picture of my dining room (shockingly clean and not littered with evidence of my online shopping habit)…
Above is a look at my dining room table centerpiece. It looks so awesome at night when the lights are low. I bought all of those creepy netlike things from the Dollar Tree and layered them on my existing table decor (what you saw in the picture before: flameless candles and a bowl of shells). They creep up anything, so if you see them grab a bunch! The great thing about those flameless candles is that they can be controlled remotely; less of a hassle to turn on and looks so much creepier when they are "lit". All of the spiders and a few of the glitter skeletons also came from the Dollar Tree. The rest of the decor is from HomeGoods and Cost Plus World Market.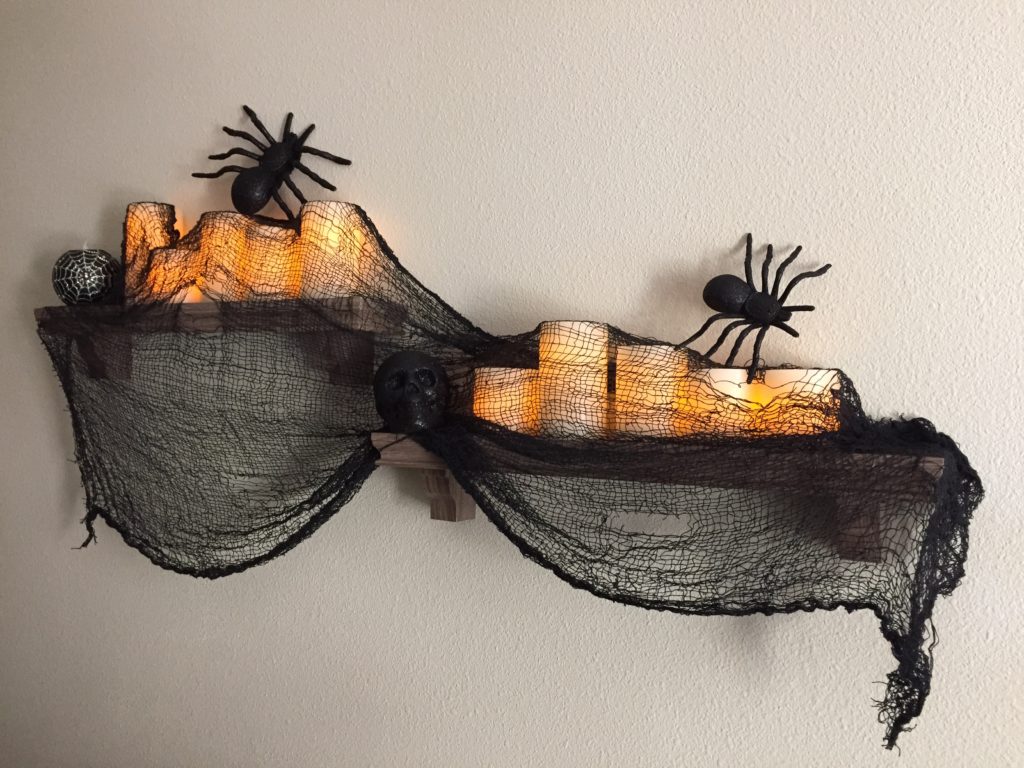 Same thing as I mentioned above, all but the cobweb candle holder are from the Dollar Tree.
The reflective ghosts still creep me out when I walk by them at night and sometimes I forget they are on the bathroom mirror too. I found those at Party City. The sign is from the Dollar Tree. The rest of the items were given to me by my mom and sister in my BOO basket through the years (yes, we BOO each other!).
I had found these great throw pillows to put on the settee at HomeGoods. HomeGoods, Marshalls and TJ Maxx have wonderful decorations and fun items if you like to "BOO" others with a BOO basket.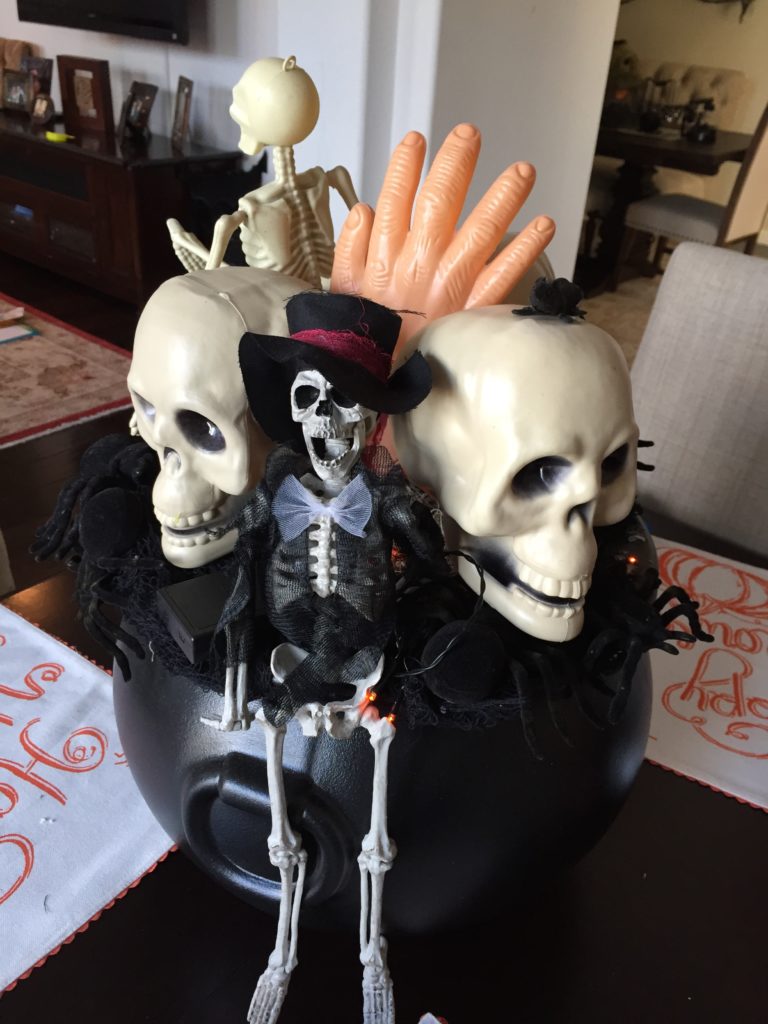 My mom made me this fun cauldron centerpiece for the kitchen table! It is strung with lights and looks awesome at night too! She glued hands, skeleton heads and spiders (many of the items came from the Dollar Tree and Party City). My kids love it and have named the skeletons.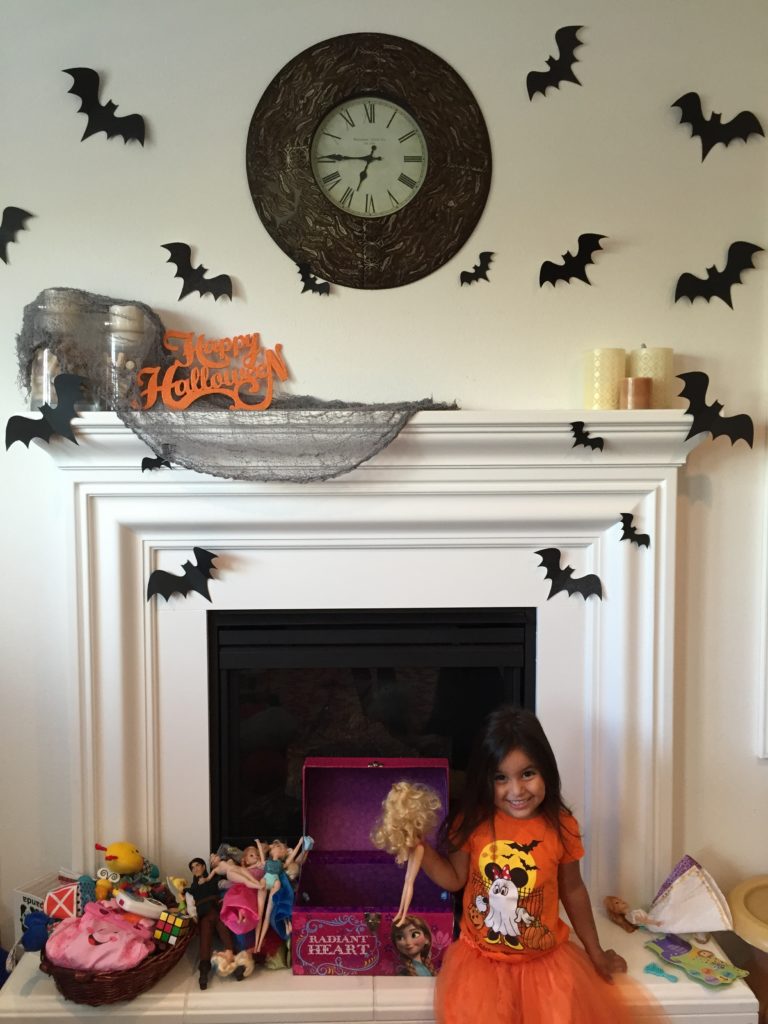 Excuse my little Jack o' Lantern's mess (and the naked barbies haha!). My mom cut out those bats for me on cardstock using her Cricut machine. I used double-sided foam stickers to stick them on the wall and bent their wings back a bit to give them a 3-D look.
Here is one of my favorite decorations, compliments of my fabulous mama. I loved the bat chandelier from Pottery Barn Kids, but it wasn't full enough for the look I wanted. So my mama made this amazing chandelier for me! And she has been kind enough to send over the bat templates. Stay tuned for a how-to next week!!
I was hesitant to put up this last picture as I did not want to offend anyone with the gory nature. But then I got over it, because we obviously are not a real "chop-shop". Those are all Dollar Tree finds. When the kids were younger and didn't trick or treat (other than 5 houses), we would offer the neighborhood parents 'blood' (red wine) from our chop shop. Oh and Bubbs may have used one of the teeth for teething. His sister liked to bring the leg with us in the car and one day we opened the back door to see him doing this. Don't worry, we took it away…after we took a picture.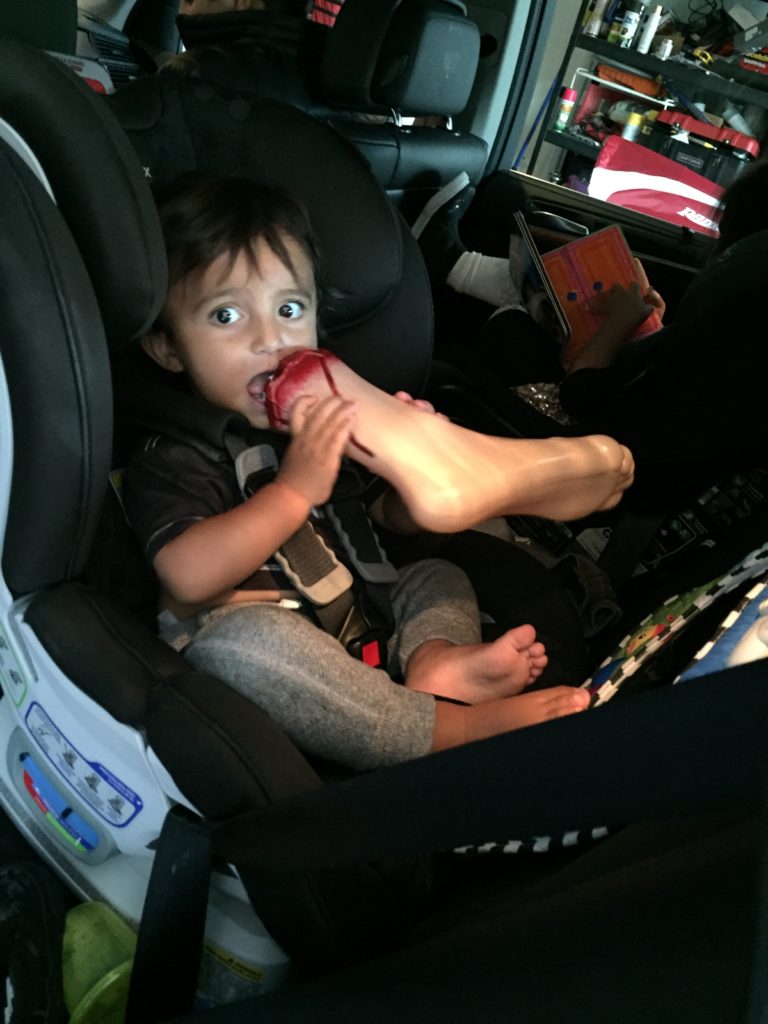 What do you all do for Halloween?
With love,
Shahla