"For beautiful eyes, look for the good in others; for beautiful lips, speak only words of kindness; and for poise, walk with the knowledge that you are never alone." Audrey Hepburn
How am I supposed to follow up such a great, deep quote with a superficial post about eye creams and concealer? Like I do everything else in life…awkwardly and abruptly.
Lately (as in the past four years) I haven't been sleeping well. It has taken a toll on my eyes…I am now the proud owner of dark circles and deepening lines. After some trial and error, I have found some great products that go a long way in helping me fake well-rested eyes.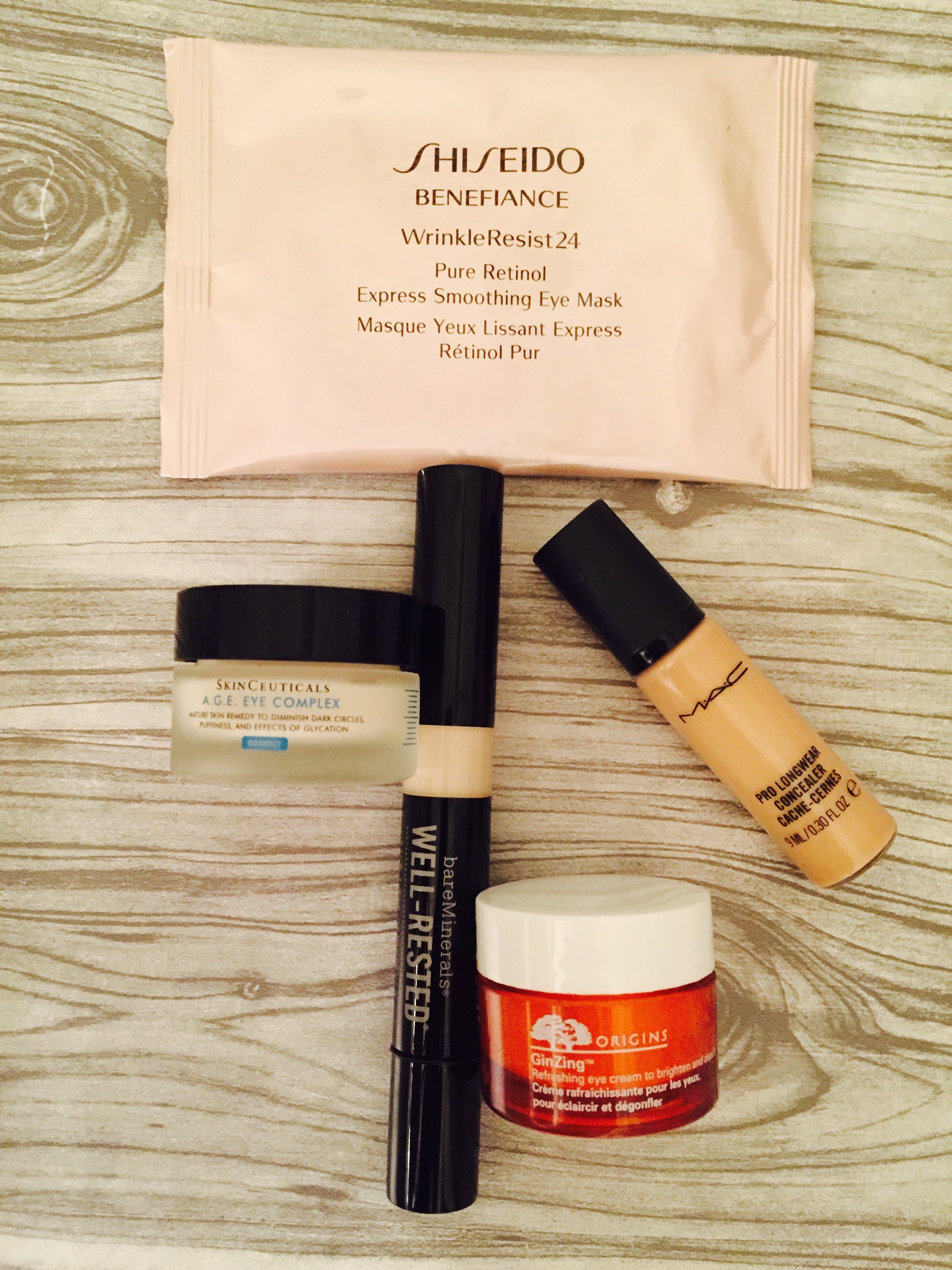 Daily AM Routine:

I LOVE the Origins GinZing eye cream in the morning. It has light reflective properties that really help brighten the eye area. I have tried eye creams of all price points and this is my go-to over the past couple years. I wish they would formulate a face cream with the same pearly particles as an illuminator.
I follow that up with MAC Pro Longwear concealer on my eyelids (great as a primer for shadow or in lieu of shadow) and under my eyes to cover the dark circles. The coverage on this concealer is great. I have it in two shades…one for highlighting and one for blemishes. A little goes a long way.
Bare Minerals Well Rested is great for dabbing along the upper parts of your cheekbones on days that you really need a little extra magic.

Daily PM Routine:

It goes without saying that you must take off your makeup each night. Especially your eye makeup. Makeup removers are so tough to recommend because it really depends on the person…some like oily some don't. Either way do yourself a favor and take it all off.
SkinCeuticals A.G.E. eye complex is worth every penny. It is so richly hydrating and nourishing. I purchase it at my dermatologist's office. Check their site to see where to buy.

Weekly:

A couple times a week I use Shiseido's Benefiance WrinkleResist 24. They are retinol patches that you can use under your eyes and around your lips. You leave them on for fifteen minutes and can use them 2-3 times a week. I have only tried this mask under my eyes so far and it has really helped improve the appearance of fine lines. Any help is appreciated considering I felt like my eyes were turning into Shar-Pei's.

On the go:

Dior SkinFlash Radiance Booster has been my favorite for touchups. Every time I try something new, I find myself going back to it. It  highlights and minimizes shadows without settling into fine lines or caking. Pop it on in the afternoon and it looks like you just woke up from a nap.
Don't forget to wear your sunglasses to protect the delicate eye area (and your gorgeous eyes) from the harmful rays of the sun…even when it is overcast.  I do, and I know I look like a fool doing so (at least I will be a younger looking fool!).
Let me know your thoughts…or if you have a regimen you love…SHARE! I love trying new things!
With love,
Shahla