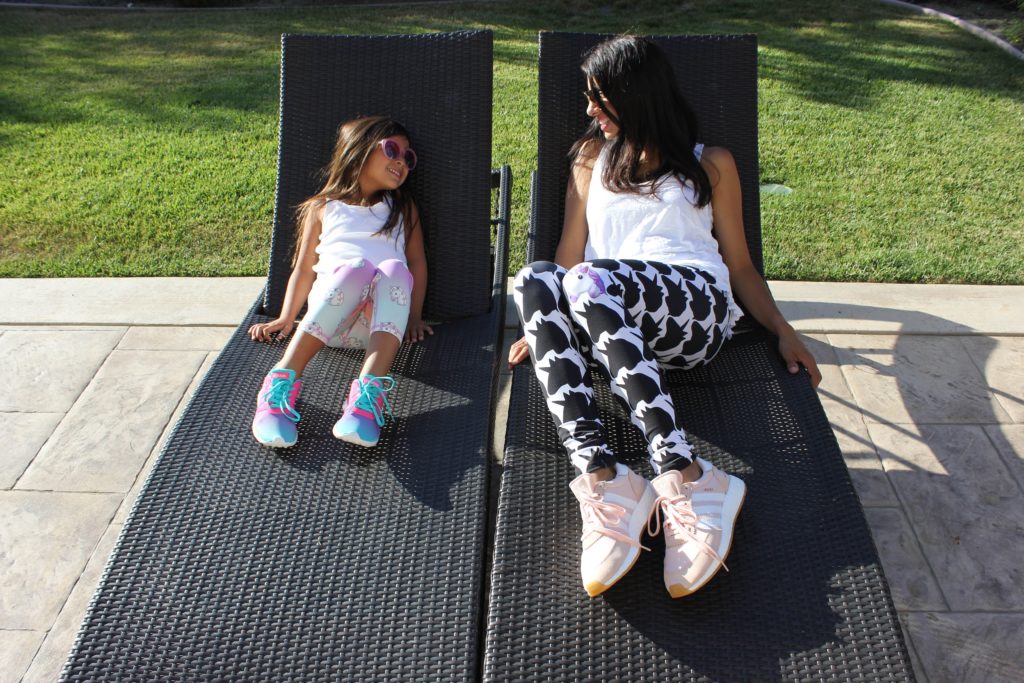 Let's see a show of hands for those of you who wear yoga pants daily, even if you have no intention of going to yoga (me raising and waving both of my hands in the air). Last school year, I wore black yoga leggings almost every single morning to drop off. Some days they would make it to the gym, some days they would only make it to the grocery store.
My goal for the new year was to wear less leggings and dress up for drop off. I craved feeling more put together and the monotony of black on black was wearing on me. That new year goal was one I never was able to achieve. The mornings are a whirlwind of getting the kids up, getting them ready and feeding them. I have to remind myself not to leave the house in my Wonder Woman pjs. Getting dressed up is not a reality for me and my current lifestyle. Plus, I really like that my leggings do give me the option of dropping into the gym.
This school year, my goal is less monotony and more fun! I have rounded up some companies/designers who make bright and fun prints you need to check out. While these products were gifted to me, the opinions expressed are my own.
Onzie
I bought my first pair of Onzie leggings years ago and fell in love with the comfortable, cool fabric. They use Free-Flow Fabric Technology that makes their clothing breathable and fast drying. That means I can confidently go to a spin class and then go run errands after. I love their high-waisted leggings. They make me feel well supported no matter what activity I am doing. Added bonus: they have a line for young girls and even have fun mommy-and-me matching prints! My daughter loves her leggings for tennis or just playing around outside on her bike. I love these blue ombre leggings and matching ones for littles. They also have these amazing animal prints and fun lace insets. Another bonus: their line is made in the USA!
Goldsheep
A very fashionable friend of mine introduced me to Goldsheep last year. They hand make each piece in Orange County and have one-of-a-kind prints. I love the whimsy behind their prints. Their leggings are comfy and perfect for hot yoga and beyond. Here are links to a few of my favorite prints: Champagne print, Rainbows, Pineapples and Palm Pop (the ones I am wearing below). I dare you not to become obsessed with this brand!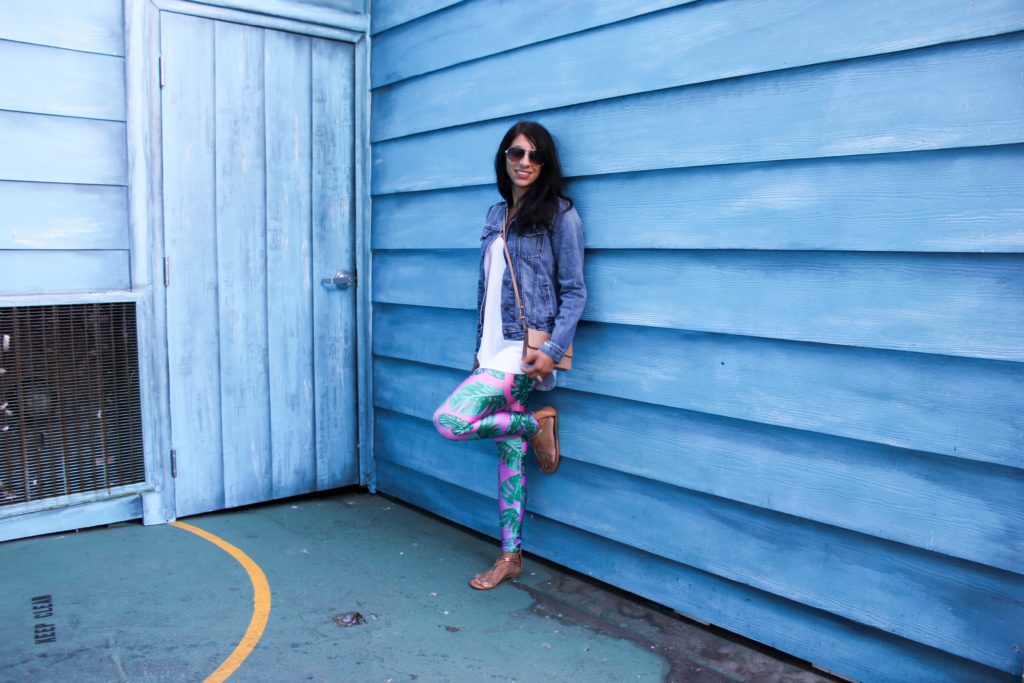 Emily Hsu Designs
The designer behind Emily Hsu Designs, Emily Hsu started sewing leggings together for herself and her daughters in 2014 when she could not find what she was looking for in the market. We love her mommy-and-me styles! Her signature style is a high-wasted legging that can withstand any high energy workout. That is what I loved most about these fun leggings, I never had to mess with pulling them up. They stayed put the entire day. What I love next about her leggings are the fun prints and bright colors. We were stopped multiple times and asked where we got the mermaid leggings we are wearing below! Here are some of my favorite prints: Tropics, Donut Delight and Bang Bang Graffiti.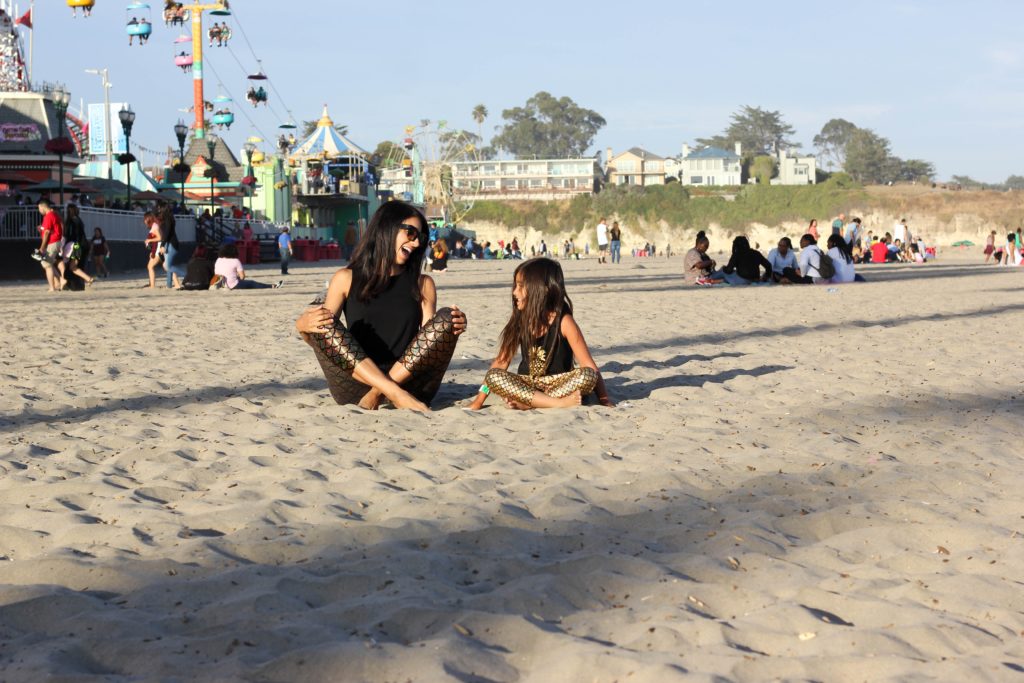 A Little Leafy
I "met" Stef, the owner of A Little Leafy, on Instagram earlier in the year. My daughter was having a difficult time in preschool with some mean-girl situations. Stef was so kind and encouraging. Her artwork is adorable and her puns are witty! I was perusing Society6, looking for fun leggings when I came across pieces that looked familiar. Fun coincidence that these awesome leggings are Stef's design! You can go to her website here, I will be shopping from her again (and again!!). These were each under $40.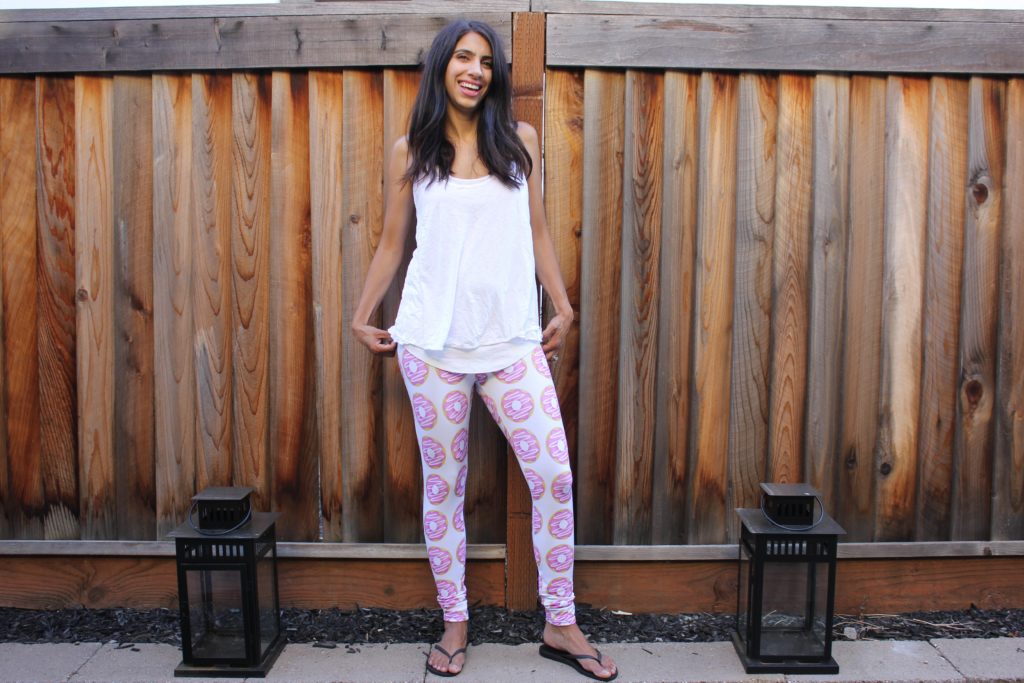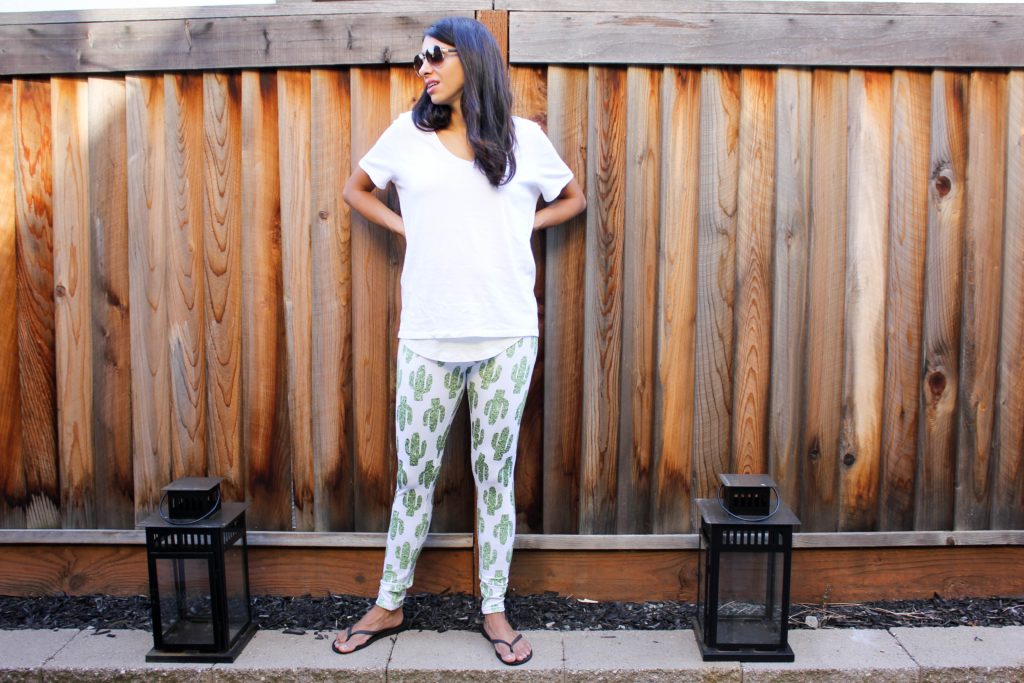 Goodbye Basic Black
So when you see me around the kids' schools at drop off, chances are high that I will be wearing leggings. But at least they will be fabulous dahlings! Hope you check out these brands I mentioned, you won't be sorry!
With love,
Shahla