In the old playroom, I made an ombré heart made out of 3D butterflies. It was one of my favorite DIY projects because it was easy and turned out great.
Here's what you need:
Canvas (the size is up to you and your space)
Cardstock (try to get a variety in a color scheme and maybe throw in a few glittered pieces of paper for fun). I bought mine in a multipack of purples and chose three of the colors to keep it simple.
Butterfly paper punch (I got the Martha Stewart one from Michael's).
Foam double sided adhesive (in photo/scrapbooking section…I got the small squares).
Pencil
First, I drew the heart on the canvas with a pencil. I was able to even it up and not worry about the pencil marks because my butterflies would cover. Divide the heart into 3 sections.
Then, punch out a gazillion butterflies with your puncher. Okay maybe not a gazillion, but no kidding this project needs A LOT of butterflies. Start adhering the butterflies with the foam adhesive. I bent the wings of the butterflies a little to make them appear more 3D. Change the shade as you are moving into the different sections. Try to do this gradually to give it more of a smooth ombré. I also added in some of the glitter cardstock here and there to make it more unique.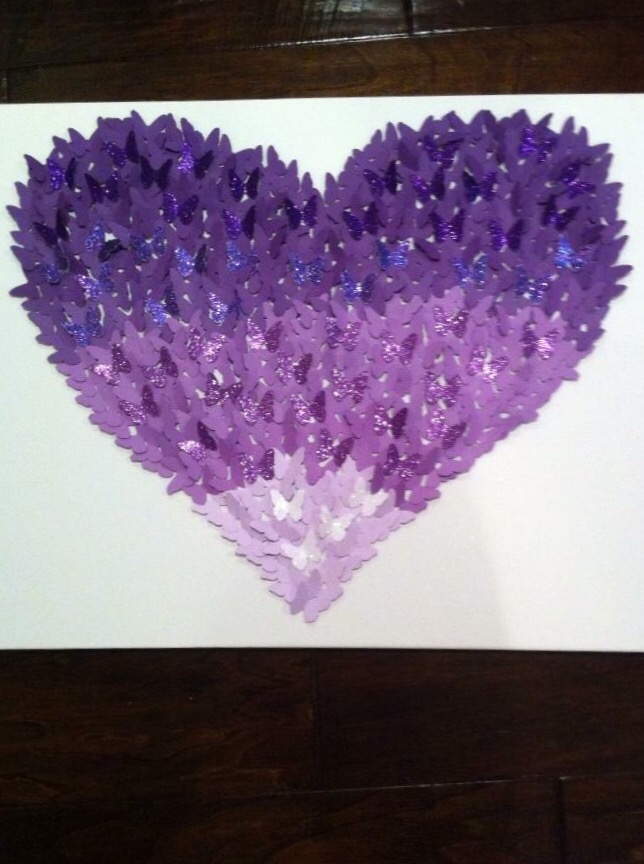 It turned out great and was super easy. Before I started, I wrote a message on the back to my daughter since I truly wanted this piece of art to be from my heart.
Let me know if you try this or another type of punch out art.
With love,
Shahla